MAKSIMOVICH, NOEL EYE ADJUSTMENTS AS DEVELOPMENT CAMP OPENS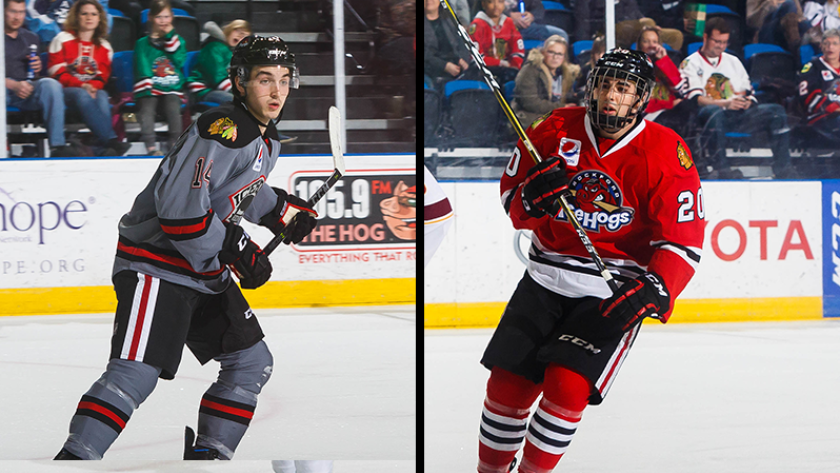 ROCKFORD, Ill – As Chicago Blackhawks Development Camp opens this week, IceHogs forwards Kyle Maksimovich and Nathan Noel are working to showcase their talents to Blackhawks brass.
Both players saw time with Rockford during the push to clinch a berth in the 2018 Calder Cup playoffs, but they were each also limited in their respective roles on a talented IceHogs roster.
Maksimovich signed an Amateur Tryout Agreement (ATO) with the Hogs on March 18 and appeared in four American Hockey League games during the regular season, while Noel split the season between the AHL and ECHL with 17 games for the IceHogs and 21 contests with the Indy Fuel.
For Maksimovich, who led Erie to the Ontario Hockey League (OHL) championship last season prior to his stint with the IceHogs, he departed Rockford at the conclusion of the campaign with his sights set on Development Camp. After appearing in 69 total games between the Otters and IceHogs and later skating as one of Rockford's "Black Aces" during the playoffs, Maksimovich said he'll take just a little time to recoup from the grind of the season before focusing on this week's camp.
"(The plan is to) take some time off, reset my body and then I'll get back to training," said Maksimovich during his exit interview with the IceHogs. "I'll work back into skating and be ready for development camp."
The 20-year-old Maksimovich noted some key differences, and therefore key areas for personal improvement, in making the jump from the OHL to the AHL. The 5-8, 174-lbs forward produced three consecutive 60+ point seasons with Erie from 2015-18 before reaching the AHL with the IceHogs. And after his first glimpse of the next level, he pointed to a few adjustments he hopes to make before the arrival of camp and the 2018-19 hockey season.
"The guys are a lot bigger (in the AHL), I definitely have to put on some weight, be prepared to battle in the corners," said Maksimovich. "And (the game) was a lot faster too. "I have to work on my speed and quickness in the summer. Hopefully I can adjust to being able to play every night and be in the lineup."
Noel, on the other hand, spent the entire 2017-18 season in the Blackhawks' system, skating in the both the ECHL and AHL. The 21 year old missed a portion of the campaign due to injury, but took advantage of the different opportunities available at the different levels of Chicago's organization.
"Being up and down, it was a great experience" said Noel during his exit interview with the IceHogs. "You learn a lot from being down (with the Fuel)…So, first year I can take a lot out of this. I'll bring a lot of experience into next year just because I got this year under my belt."
The rookie forward completed his 2017-18 season with just one goal in 17 games with the IceHogs, and 11 points (4g, 7a) in 21 contests with Indy. He excelled during his time in the ECHL, notching four multi-point games and amassing four goals and four assists in his first 10 appearances of the year.
Noel said the increased playing time with Indy played a large role in his development last season.
"When I went down, the main thing is to keep working on my game," said Noel. "You just pack your bags go and get to work, and that's what I did. (I got) to play a lot more down there, so you get to work on your skills and have the puck a bit more."
Overall, Noel was pleased with his rookie season as he helped both the Fuel and IceHogs mount their respective postseason pushes. Now, entering Development Camp, Noel said his focus is delivering the same top-level performance each time he takes the ice.
"For me it's all consistency, you have to bring it every night," said Noel. "Some nights it's tough to do that, but that's pro hockey. You have to just find a way. For me, that's the biggest thing, and this summer I obviously have to work as hard as I can and come back (to camp) and try to turn heads."
The Chicago Blachhawks will host development camp at MB Ice Arena throughout the week from Monday, July 16 – Friday, July 20. For additional information, visit NHL.com/blackhawks.
Season Tickets for 2018-19 on Sale Now:
Don't miss a moment of the action by reserving your seats for the IceHogs' 20th season of professional hockey in Rockford and 12th as the top AHL affiliate of the Chicago Blackhawks. The IceHogs' home opener is set for Oct. 13 and ticket packages begin as low as $105 for a seven-game mini pack. Please contact us at (815) 847-6399 or visit icehogs.com to claim your spots for this upcoming season.