LATE SUMMER GRUMBLINGS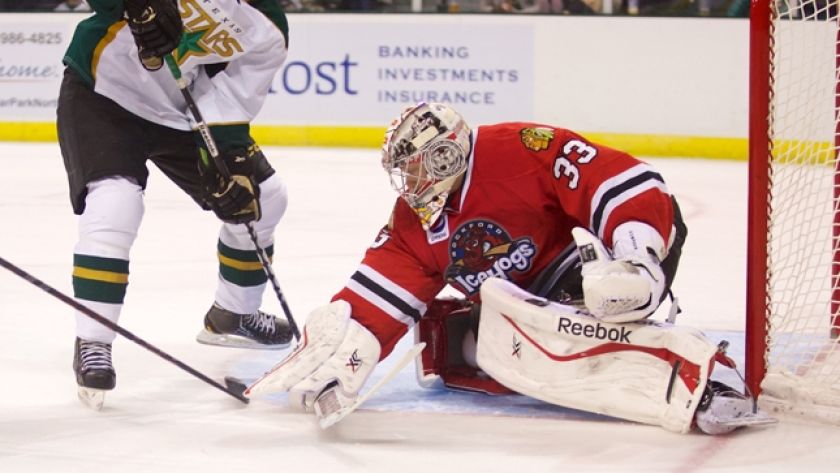 Late Summer Grumblings

It's hard to believe that it's already late August as school is in session for most every Rockford student and training camp is just over a month away.

A few thoughts as we head into the final month of the offseason:

Hello Goalie Depth
The goalie situation in the organization has all of a sudden gotten pretty deep after the signing of Mike Leighton. Leighton has already cited in a few interviews that he is expecting to land in Rockford in 2014-15.

From a Blackhawks perspective, Leighton becomes a very valuable piece, even if he is in Rockford. He will provide some high level competition for Antti Raanta for the second goalie spot with the Blackhawks in training camp, but probably more importantly, gives the organization another NHL ready goalie in case there are issues between the pipes in 2014-15, like injuries.

Scott Darling had a very solid season last year in Milwaukee and 2013-14 could have been considered a break out campaign for the Lemont, Ill. native. But Darling has never suited up for an NHL game, let alone play in one.

Remember back to last season when the Blackhawks where down there #1 (Corey Crawford) and #2 (Nikolai Khabibulin) goalies due to injuries and Raanta and Kent Simpson were Chicago's two tenders for about a 10-day stretch. If Raanta faltered during his time as the top goalie in Chicago for a month or so, it could have created an unthinkable situation where the Blackhawks could have been struggling to get into the postseason.

But now there is a goalie in Leighton who has played at the top level, a goalie in Darling who will hopefully carry over his play from last season to next and two prospects in Simpson and Mac Carruth who could still develop into NHL caliber goalies.

From an IceHogs perspective, the depth helps as Ted Dent won't have to search too far to find capable goalies if injuries or recalls occur in Rockford.

Kevin Hayes
Former Blackhawks first round pick Kevin Hayes signed on with the New York Rangers last week and officially severed his ties with the Hawks organization. I, like most, was disappointed and a litter biter about Hayes not signing with the Hawks.

But looking at it from his perspective, he is a right wing, a position that the Hawks are very deep at, at the NHL level and even in Rockford. Like every prospect, he wants to get to the NHL as quick as possible and he obviously felt that if he signed on in Chicago, it would not be a quick path.

I can't hold that against him and despite popular belief, I think his signing elsewhere had little, if nothing, to do with the fact that Chicago traded his older brother Jimmy to the Florida Panthers last November.

I really don't think this will set precedence for future prospects even though there are a few players in the NHL that followed this same path (Justin Schultz is one of them). So it is rare for something like this to happen.

Hayes would have looked good in Rockford this season, but right now, the IceHogs should have some good depth up front with a bunch of returning first-year skaters from last season.

Early Start For Some
Training camp in Chicago might not open until Sept. 19, but a group of skaters, most of which will end up in Rockford, will get a jump start on the season with the rookie tournament in London, Ont. Sept. 13-16.

Rosters have yet to be released for the Blackhawks, who will compete in the annual tournament with Toronto Maple Leafs, Pittsburgh Penguins and Ottawa Senators.

The team will wear Blackhawks jerseys for the event, but the IceHogs Hockey Operations crew, including Head Coach Ted Dent and Associate Coach Mark Osiecki will coach the group as the play in the three game round-robin tournament.

The event is a great opportunity for the coaches to get familiar, or re-familiar, with a good group of players will end up in Rockford. Plus, these skaters are getting a little bit of a head start in preparation for Blackhawks training camp with a team organized activity.