LANKINEN STARRING WITH FINLAND AT 2019 IIHF WORLD CHAMPIONSHIP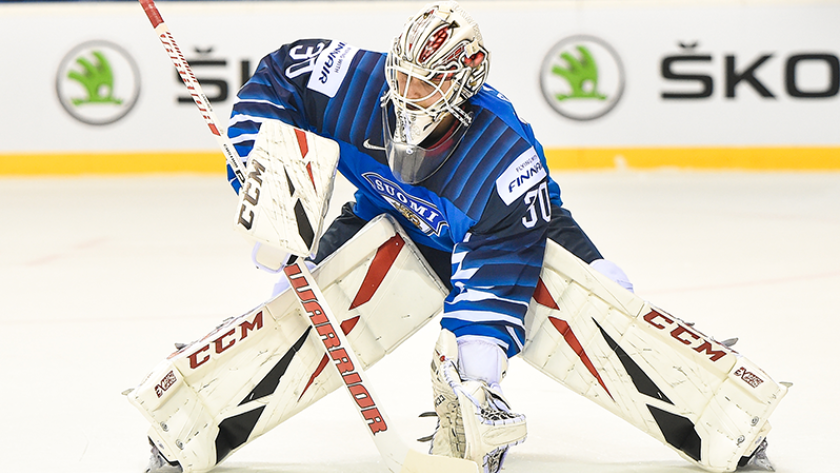 KOSICE, Slovakia -- Rockford IceHogs goaltender Kevin Lankinen has starred for Finland during the 2019 IIHF World Championship, helping the team to a 5-0-1 record and first-place ranking in Group A in preliminary play.
Lankinen, who made his professional debut with the Hogs this season, is 4-0-0 with a 1.00 GAA and .957 save percentage over his four appearances with the Finnish team. He is currently second among all tournament goaltenders in both GAA and save percentage, and is one of only seven netminders to post a shutout during the preliminary schedule.
The 24 year old began the tournament with 20 saves on 21 shots against Canada. He kept his momentum rolling with just two goals allowed on 25 shots against the host Slovakia squad, before again allowing just a lone goal with a lockdown effort of 25 stops vs. Denmark.
Lankinen then blanked France on 21 shots in a showdown against fellow netminder Florian Hardy, who finished with 44 saves during France's 3-0 loss to the Fins. Lankinen helped kill off four power-play opportunities and made a fantastic pad save on a shorthanded breakaway by Eliot Berthon to preserve the shutout. As Berthon sprung free, the forward skated across Lankinen with a nifty deke and forced the netminder into an awkward position. Lankinen stayed with the puck and deflected the shot at the last second to deny Berthon on the scoring chance.
Finland and Lankinen are now scheduled for a final contest in preliminary play on Tuesday, May 21 against Germany. The Quarterfinals will then begin on Thursday, May 23.
During the 2018-19 regular season, Lankinen helped the IceHogs post the AHL's best save percentage by recording a .910 mark along with a 7-8-4 record and 2.50 GAA in 19 total appearances. He rebounded from winning just two of his first 10 AHL appearances to lead Rockford to points in six of his final nine outings with a 5-3-1 record from Jan. 25 through the conclusion of the regular season. He only twice allowed more than three goals with the Hogs and posted 25+ saves in 11 contests.
Lankinen is currently signed with the Chicago Blackhawks through the conclusion of the 2019-20 season.
Season Tickets for 2019-20 on Sale Now:
Don't miss a moment of the action next season. Reserve your seats for the IceHogs' 21st season of professional hockey in Rockford and 13th as the top AHL affiliate of the Chicago Blackhawks. The IceHogs' home opener is set for Oct. 12 and ticket packages begin as low as $132 for an eight-game mini pack. Contact us at (815) 847-6399 or visit icehogs.com to claim your spots for this upcoming season.