LANKINEN, JOKIHARJU LEAD FINLAND TO GOLD MEDAL AT IIHF WORLD CHAMPIONSHIP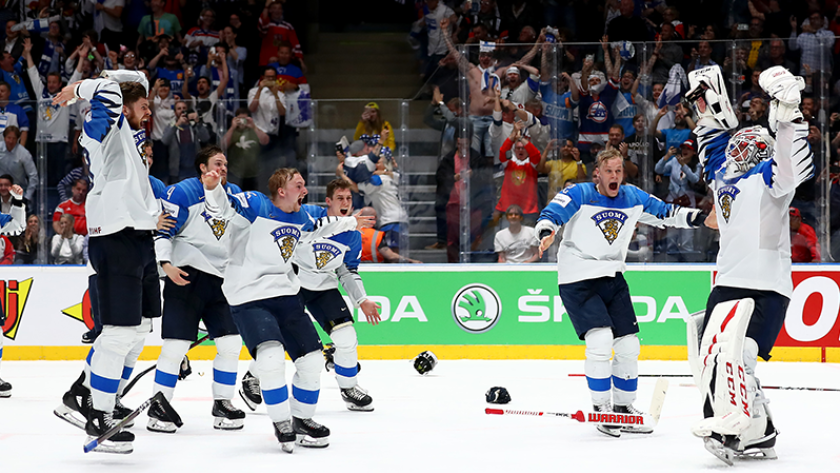 ROCKFORD, Ill. – Entering the 2018-19 offseason, IceHogs goaltender Kevin Lankinen said he wasn't a lock to make Finland's roster for the 2019 IIHF World Championship. One month later, he backstopped the team to a gold medal.
"I have to make the team first," Lankinen said in his exit interview for Rockford in April. "We have some good players, so we'll see what happens."
Lankinen took the tournament by storm, posting a 7-1-0 record over his eight starts. He logged 480:41 minutes during the showcase, posted a .942 save percentage and recorded a 1.50 GAA for the Fins. Overall, he finished first among IIHF goaltenders in GAA and second in both minutes and save percentage.
"I'm so proud, it's been one of my dreams," said Lankinen after leading Finland to a 3-1 win over Canada in the Gold Medal Game. "I've been watching the World Championships since I was a little kid and it's a really big thing in Finland."
After winning four of five starts in preliminary play, including notching a 21-save shutout against France, Lankinen took the ice for what proved to be an impressive run in the playoffs. The netminder held tough in an overtime victory against Sweden in the Quarterfinals, stopping 14 of 18 pucks before Sakari Manninen sealed the win 1:37 into the extra period.
Lankinen then blanked a loaded lineup from Russia in a 1-0 shutout in the Semifinals. The Russian squad featured 51 goal-scorer from the 2018-19 NHL season, Alex Ovechkin, 41 goal-scorer Nikita Kucherov and 21 goal-scorer Evgeni Malkin. The team fired 32 shots against Lankinen, but the Hogs netminder stood tall to complete the shutout and lead Finland to the Gold Medal Round.
"We just stuck together, played a team game," said Lankinen of Finland's overall performance during the tournament. "We got a really good group of guys, a really good team."
In the medal round, Lankinen saved arguably his best for last, combining for a tournament-high 43 saves on 44 shots against Canada. Lankinen ultimately dealt Canada each of its two losses during the tournament, this time outdueling Stanley Cup champion Matt Murray to earn the win. Lankinen was breached by only Shea Theodore en route to the Gold Medal. The goaltender combined to finish with 75 saves on 76 shots over the final two games of the World Championship.
"Being a part of this team, I'm so privileged to be here right now," said Lankinen. "This is the best feeling of my life so far."
Fellow Chicago Blackhawks prospect Henri Jokiharju picked up three assists during the tournament to help Lankinen and Finland capture the gold medal.
Season Tickets for 2019-20 on Sale Now:
Don't miss a moment of the action next season. Reserve your seats for the IceHogs' 21st season of professional hockey in Rockford and 13th as the top AHL affiliate of the Chicago Blackhawks. The IceHogs' home opener is set for Oct. 12 and ticket packages begin as low as $132 for an eight-game mini pack. Contact us at (815) 847-6399 or visit icehogs.com to claim your spots for this upcoming season.