LABRIE, ICEHOGS KICKSTART ANTI-BULLYING INITIATIVE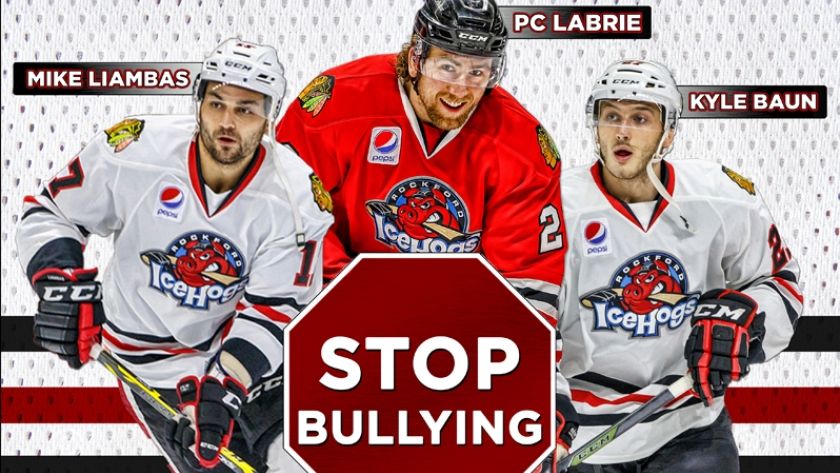 Rockford, Ill.- The Rockford IceHogs, proud American Hockey League affiliate of the Chicago Blackhawks, will begin an anti-bullying initiative started and led by P.C. Labrie.

Labrie, a veteran forward and alternate captain of the IceHogs, will be attending three schools along with teammates Mike Liambas and Kyle Baun to educate and spread awareness on preventing bullying.

The trio will talk about their experiences with bullying, discuss the effects of bullying on students, and explain how to end the problem. As part of the players' anti-bullying program, they will demonstrate situations that encompass bullying through interactive role playing. Students will be asked to make correct decisions, based on each situation, to prevent and avoid bullying. Each student who attends the assemblies will receive an IceHogs "Stop Bullying" poster, featuring Labrie, Liambas, and Baun.

Labrie, Liambas, and Baun will be visiting the following schools:

- Thur., March 10th: Montessori Private Academy
- Thur., March 17th: St. Bridget's School
- Mon., March 21st: Stillman Valley Middle School

Next Home Game: Tuesday, Mar. 15 vs. Charlotte Checkers. After a weekend series in Charlotte, the two teams battle it out in Rockford. The BMO will be celebrating St. Patrick's Day a little early. Danny's Gone Rogue will be playing in the Blue Flame Lounge, and those age 21-and-older can take advantage of drink specials and green beer. Fans can also enjoy $2 beers, soda, and companion tickets at the game.