KRYS EYEING PATH TO CHICAGO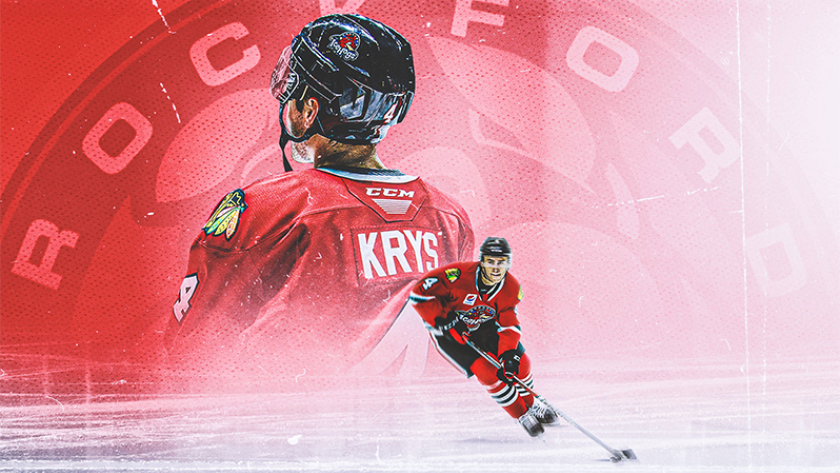 ROCKFORD, Ill. – Development Camp is a welcome respite from the slog of summer, Rockford IceHogs defenseman Chad Krys admitted.
It's a trip right back into the season's hockey action, plus all of management on-hand evaluating in the wings.
"You're not skating at this pace during the summer, so it's good to get out there and play at this level," said Krys after this summer's workouts. "I think the week progressed pretty well and I think by the end of the week everyone's a bit worn down, but it's fun to just come out here and play. "I think everyone's just trying to do the same thing, they're trying to listen and hopefully put into action moving into the season what's being expected of them."
Krys is entering his first full professional season following a junior campaign at Boston University in which he served as an alternate captain and tallied a career-high eight goals. The blueliner joined Rockford at the tail end of the 2018-19 season, picking up four assists in nine AHL games.
Entering the offseason, Krys said he had a few conversations with the Blackhawks about the plan for the summer, but this being his fourth development camp, he already had a feel for Chicago's expectations.
"You don't have much dialogue during the summer, you're expected to come into camp in shape and come with an attitude that you want to make the team," said Krys. "Other than that, what I learned from these camps the last few years and being in Rockford at the end of last year, I have a very good idea of what the expectation is out of me. Hopefully, I can play at a level that is needed."
For Krys, maintaining that level means relying on his strengths as hockey player. He said his skating ability and hockey IQ are key for him to succeed in Chicago and Rockford's scheme. Ideally, he can couple that with a productive year to contribute at the top level of the system.
The Blackhawks may have helped pave Krys' path to Chicago with the transaction that included moving fellow defenseman Henri Jokiharju in a trade with Buffalo earlier this month.
While the transaction and future plans for Krys aren't necessarily a direct correlation, it's still an encouraging sign of the faith the Blackhawks have in their current set of blueline prospects.
"Obviously it's one more guy you don't have to battle against, but I think no matter how many other guys there are, you're going to have to beat other guys out, you're going to have to play well," said Krys when asked about the trade implications. "It's encouraging, but at the same time I don't think it changes anything for me, I have to do the same things (to succeed)."
Krys' first summer as a pro hasn't differed much from his schedule as a collegiate athlete. He said it's actually more regimented under his own supervision, as opposed to navigating a course load in college and trying to stay sharp for hockey workouts.
With a plan in place and preseason workouts vamping up, Krys is set to battle for a roster spot at Training Camp before ultimately landing in Rockford or Chicago at the beginning of the 2019-20 season.
"You want to continue to feel like you're growing as a player, that you're making big steps, small steps, whatever it is to playing on the Blackhawks," said Krys. "Whether it happens right away or it doesn't, you can't always control that, but I think what you can control is the attitude that you have and what you do when you come to the rink and what you do outside of the rink to make sure that you're making steps in the right direction."
Season Tickets for 2019-20 on Sale Now:
Don't miss a moment of the action next season. Reserve your seats for the IceHogs' 21st season of professional hockey in Rockford and 13th as the top AHL affiliate of the Chicago Blackhawks. The IceHogs' home opener is set for Saturday, Oct. 12 vs. Grand Rapids and ticket packages begin as low as $132 for an eight-game mini pack. Contact us at (815) 847-6399 or visit IceHogs.com to claim your seats for this upcoming season.