KNOW YOUR OPPONENT - GRAND RAPIDS GRIFFINS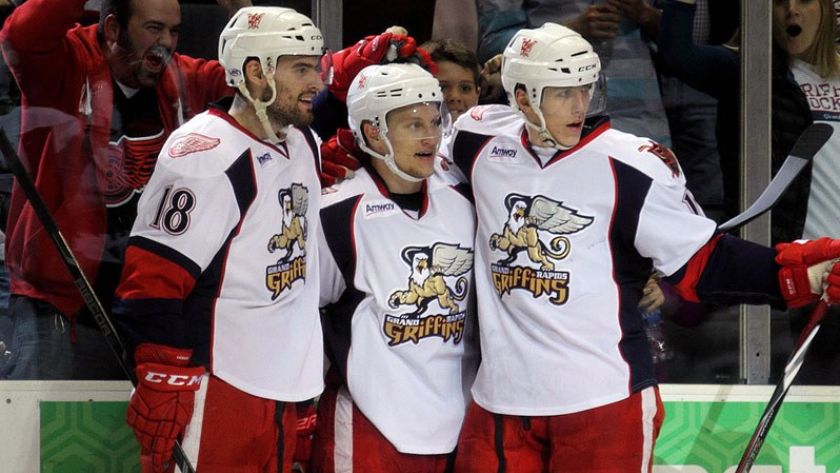 A scouting report on the 2014-15 Midwest Division Champions
With an impressive three-game sweep over the Texas Stars, the first Calder Cup Playoff series in five years for the Rockford IceHogs was all but fleeting. Now that the page has turned to the Western Conference Semifinals, anything but a lengthy hard-fought battle would come as a major surprise.

After just coming up short in the race for the Midwest Division title to the Grand Rapids Griffins, Rockford can exact some revenge as the two rivals meet up for what is sure to be an exciting second round series. On the heels of knocking off the defending Calder Cup Champions, the IceHogs now are tasked with going head-to-head with the club that won it all in 2013.

But where Rockford took the accelerated route to Round 2, Grand Rapids had to advance the hard way. After dropping the first two games on the road in their Conference Quarterfinal series to the Toronto Marlies, the Griffins staved off elimination three straight times on home ice, winning the decisive Game 5 on Sunday to earn their date with the IceHogs.

After crossing paths eight times over the regular season, Rockford and Grand Rapids are two teams already well-acquainted with one another. However, the IceHogs and Griffins have never before met in the postseason over the eight-year rivalry between the two teams. So as the Midwest Division foes gear up for Game 1 of the best-of-seven series Wednesday night in Michigan, get brushed up on everything you should know about Rockford's rivals to the east.

Grand Rapids Griffins: 46-22-6-2 (100 points), 1st Place Midwest Division, 2nd Place Western Conference
Leading Scorers (Regular Season):

-C Andy Miele (71 GP, 26g-44a-75pts)

-RW Teemu Pulkkinen (46 GP, 34g-27a-61pts)

-RW Landon Ferraro (70 GP, 27g-15a-42pts)

-C Kevin Porter (76 GP, 16g-23a-39pts)

Leading Scorers (Playoffs):

-RW Teemu Pulkkinen (5 GP, 6g-0a-6pts)

-C Andy Miele (5 GP, 2g-4a-6pts)

-C Andreas Athanasiou (5 GP, 4g-1a-5pts)

-RW Mark Zengerle (5 GP, 0g5a-5pts)

Top Goaltenders (Regular Season):

-Petr Mrazek (13 GP, 9-2-1, 2.06 GAA, .927 SV%, 3 SO)

-Jared Coreau (25 GP, 16-8-1, 2.20 GAA, .927 SV%, 3 SO)

-Tom McCollum (37 GP, 19-11-6, 2.40 GAA, .916 SV%, 1 SO)

Top Goaltenders (Playoffs):

-Tom McCollum (4 GP, 3-1, 3.27 GAA, .899 SV%)

-Jared Coreau (1 GP, 0-1, 3.10 GAA, .875 SV%)

Quick Facts:

NHL Affiliate: Detroit Red Wings

Head Coach: Jeff Blashill (3rd Year)

Calder Cup Playoff Appearances: 8 (2014, 2013, 2009, 2007, 2006, 2004, 2003, 2002)

Highest Playoff Finish: Calder Cup Champions, 2013

Calder Cup Playoff Record: 47-44

Website: griffinshockey.com

Twitter: @GriffinsHockey

Other Team-Related Accounts To Follow: @GriffinsGameDay, @bkaser1

Season At A Glance: After a pedestrian start to the year that left them in eighth place and just a handful of games over .500 at the AHL All Star Break, Grand Rapids caught fire with a near historic second-half run that catapulted the Griffins to their second Midwest Division title in three seasons.

A four-game losing streak in mid-January left the Griffins in fourth place in the division, ten points behind then-leading Rockford. Then, suddenly a switch flipped and Grand Rapids pieced together an incredible two-month stretch where the team reached the top of the Western Conference while posting a 19-1-3-2 record. During the run, the Griffins set the AHL season-high mark and a new franchise record by playing 19 consecutive games without suffering a regulation loss (Feb. 4- March 21).

While the hot streak fell well short of the 2012 Norfolk Admirals - who won each of their last 26 regular season games before going on to win the Calder Cup - it was enough to put Grand Rapids back in the drivers' seat in the Midwest Race. An 8-5-0-0 record over their last 13 games was enough to outlast a surging IceHogs squad, leaving the Griffins with a division championship and only three points behind Utica for the top spot in the West.

How They Reached Round 2: Grand Rapids became only the 11th team in AHL history to climb out of a 0-2 deficit and win a best-of-five opening round deficit, when they rallied to oust the seventh-seed Toronto Marlies in five games. The Griffins rebounded from a tumultuous first two games at Ricoh Coliseum that saw them outscored 12-6 with three straight victories on home ice, capped off with a gritty 3-1 win in Sunday's rubber match.

In what was a wild, wide open series, Grand Rapids used their lethal offense - which led the AHL in goal scoring over the regular season (3.28 goals per game) - to outgun an upset-minded Marlies squad. Led by six goals from Teemu Pulkkinen and another four from rookie Andreas Athanasiou, the Griffins' attack proved just too much for Toronto to handle.

Grand Rapids improved to an impressive 5-1 overall record - and a perfect 5-0 at Van Andel Arena - while facing elimination under Head Coach Jeff Blashill. The Griffins are the first team to successfully pull off the 0-2 comeback since the Providence Bruins rallied to down the Hershey Bears in the 2013 Eastern Conference Quarterfinals.

Players To Watch:
Photo by Mark Newman
RW - #6 Teemu Pulkkinen: While the Griffins' forward contingent this season could only be considered a well-oiled machine, no individual part makes opposing goaltenders despair quite like Pulkkinen. In just his second full year as a professional, the 23-year-old claimed the 2014-15 Willie Marshall Award for the AHL's leading goal scorer after finding the net 34 times. Pulkkinen would have been the front-runner for the league's point race if he hadn't missed 30 games while on recall to the Detroit Red Wings.

An AHL First Team All-Star, alongside teammate Andy Miele, Pulkkinen finished the season at an astonishing 1.32 points-per-game pace (46 games, 34g-27a-61pts), while also chipping in eight points (5g-3a) in 31 NHL games with the Red Wings. A fourth round draft pick (111th overall) by Detroit in 2010, Pulkkinen strung together eight straight games with a goal from Dec. 19 to Jan. 7, while posting six different multi-goal games this season.

Pulkkinen torched the Marlies for six goals through the first four games of their first round series, while leading all playoff participants with 24 shots on goal through the first round. One of seven remaining members from Grand Rapids' 2013 Calder Cup-winning team, the Vantaa, Finland native has 22 points (14g-8a) in 19 career AHL playoff contests.

Photo by Mark Newman
D - #4 Nathan Paetsch: Another remnant of the 2013 Griffins, Paetsch helps lead a defensive corps that is made up of equal parts youth and experience. The 59 career Calder Cup Playoff games logged by 32-year-old are more than any other blueliner on the Grand Rapids roster, and are second only to winger and team captain Jeff Hoggan's 72.

The 12th-year professional led the Griffins back end with 38 points (8g-30a) in 75 games played, and finished with the third-best plus/minus rating on the team with a +24. Paetsch provides poise on both sides of the puck, and helps quarterback the Grand Rapids power play unit. The 16 points (1g-15a) Paetsch accumulated while on the man advantage only trails Miele (24 points) and Pulkkinen (19 points).

In the first round against Toronto, the native of LeRoy, Saskatoon picked up a pair of assists. Over his career, Paetsch has racked up 22 points (2g-20a) in 59 playoff games, including 11 assists during the 2013 title run.

Photo by Mark Newman
C - #23 Andreas Athanasiou : While much of the spotlight when it comes to the Griffins offense this year has been divvied among guys like Pulkkinen, Miele, Landon Farraro and touted rookie Anthony Mantha, first-year center Athanasiou gives Grand Rapids an undeniable secondary scoring threat.

The 20-year-old builds his game around his blazing speed, which allows him to make a play happen from nothing before most people can figure out how to pronounce his last name (ath-an-AYZH-yew). In Sunday's decisive Game 5 win over Toronto, Athanasiou twice used his elite quickness to advance the play forward from his own end, assisting on Louis-Marc Aubry's goal to open the scoring and providing the all-important insurance goal to put Grand Rapids up 3-1 in the third.

This season, Detroit's 2012 fourth-round draft pick (110th overall) finished third on the Griffins roster with 32 points (16g-16a) in 55 games played. Athanasiou missed 25 games in the middle of the season with a broken jaw, but returned with gusto, picking up eight points (4g-4a) in his first seven games back in the lineup.

Athanasiou has elevated his game to a new level in the playoffs, tied for second in team scoring with fellow rookie Mark Zengerle after putting up four goals and an assist against the Marlies. The native of London, Ontario scored in each of Grand Rapids' three victories at Van Andel Arena, helping his team fight off elimination and burst into the Western Conference Semifinals.

Western Conference Semifinal Schedule- Rockford IceHogs vs. Grand Rapids Griffins:
Game 1 - Wednesday, May 6 - 6 p.m. (at Van Andel Arena)
Game 2 - Friday, May 8 - 6 p.m. (at Van Andel Arena)
Game 3 - Wednesday, May 13 - 7 p.m. (at BMO Harris Bank Center)
Game 4 - Thursday, May 14 - 7 p.m. (at BMO Harris Bank Center)
Game 5 (If Necessary)- Sunday, May 17 - 4 p.m. (at BMO Harris Bank Center)
Game 6 (If Necessary)- Tuesday, May 19 - 6 p.m. (at Van Andel Arena)
Game 7 (If Neccesary)- Wednesday, May 20 - 6 p.m. (at Van Andel Arena)