KANE: HINOSTROZA STANDING OUT WITH BLACKHAWKS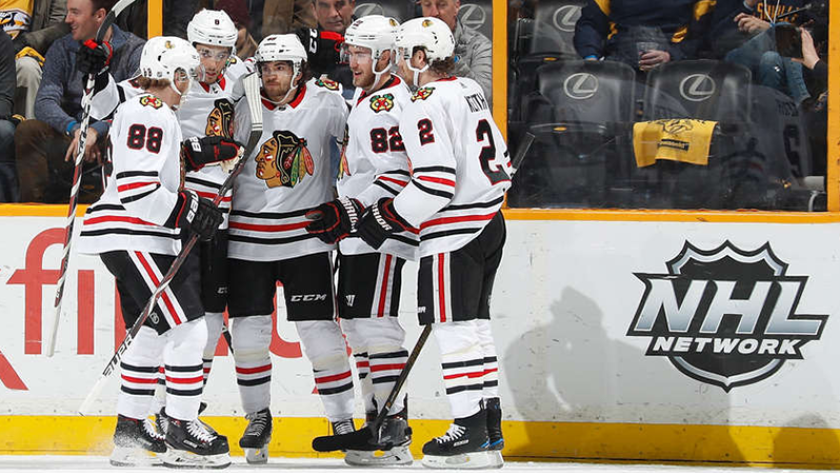 CHICAGO – With 57 National Hockey League games across two season under his belt, Vinnie Hinostroza wasn't exactly a new face in the Chicago Blackhawks locker room when he was recalled on Dec. 8 2017.
Since then, Hinostroza has notched 14 points in 23 games as he continues to cement his place with the Blackhawks. The fact that Hinostroza's comfort level in the NHL continues to rise is a testament to his drive to succeed, and the good habits he has developed – perhaps a credit to offseason work with Blackhawks leading scorer Patrick Kane.
"We worked out together this summer towards the end of the summer – I skated with him a lot – He's one of those guys that just stands out. Even in the NHL games with his speed, the way he can create by himself," said Kane, "I think he's always sticking out, even in (practice) skates, guys are looking around thinking 'this guy's a good player.'"
Starting the year with the Rockford IceHogs may have been considered a setback for Hinostroza, who spent over half of last season in the NHL, but he decided to channel any frustrations into continued progress.
"Going to Rockford was a great experience, I think I got better in every aspect of the game. I really focused with (head coach) Jeremy (Colliton) on my play away from the puck, and I think that's really helping me up here (in Chicago)," he said.
The standout forward earned his third stint in the NHL after beginning the season with an IceHogs team-high 22 points in his first 23 games. His offensive talent was previously evident, but Hinostroza says the mental aspect of his game has come around in a big way.
"Last year when I was (with the Blackhawks), I wasn't as confident and not sure of the plays I was making. Now, I'm not nervous to make plays and I know my abilities are there. So if I work as hard as I can, my abilities will take over and I'll have some success," said Hinostroza.
His training with Kane last summer saw Hinostroza dedicate time to smaller facets of the game that help players maintain consistency.
"The workouts were meant to build strength and stamina, and there was a lot of conditioning. On the ice, it was more small things – edgework you don't really think about, shooting the puck in different ways…lots of skill work," he said.
Hinostroza's road to this point has seen its share of ups and downs, and while his status as a "bubble" player through the first years of his career might not be the most favorable title, Kane says it's not uncommon to see – even with players as skilled as Hinostroza.
"Sometimes it's tough, not everyone can come in this league and play at (age) 18 or 19 right away. It's not an easy thing to do, and sometimes it takes a couple years. And I think with Vinnie, you see that; There'd be times and flashes when he would make really good plays and have speed and create a lot of chances, and then maybe some other things they wanted him to improve on. I think the biggest thing is probably just learning the NHL game, knowing when to use your speed, knowing when to go one-on-one, when not to try and go through the other team…make smart plays.
"I think he really worked hard this summer, gave himself a chance to make the team. He probably could have made the team right out of camp. Obviously he did some good things in Rockford, they called him up and he's been playing great ever since," said Kane.
Hinostroza, on the other hand, knows how positive of a situation he has earned himself in Chicago and remains committed to learn from Kane and his Blackhawks teammates as he makes his way in the NHL.
"He's one of the best players in the League obviously, so you can learn from him just being on the ice or being in the workout room with him every day. It's good to pick his brain a bit, he's a great mentor," said Hinostroza.
Now, Hinostroza has his eyes locked on becoming a key cog in a Blackhawks forward group that has developed a reputation for lighting the lamp.
"He's been producing offensively. The biggest thing he brings is that speed, so keep playing with speed, hang on to the puck, make plays," said Kane, "He's obviously got a nice little spot on the power play right now, on the weak side, so shoot the puck when you're there, but keep doing the things he's been doing."
And having recently played his 80th game in the NHL – the minimum games played for a player to require waivers to be loaned to another team (i.e. Rockford) – Hinostroza may well finally be there to stay.