JURCO TRICKS HOGS, ROCKFORD FALLS 5-3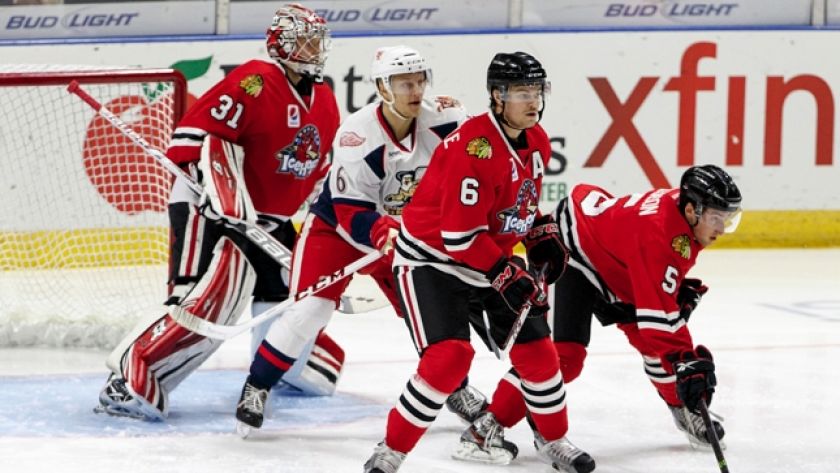 Hogs drop third straight to Griffins

Grand Rapids, Mich.- Over the first five seasons head-to-head, the Rockford IceHogs dominated the Grand Rapids Griffins. But now, the tables have been turned and Rockford dropped their third straight to the Griffs, falling 5-3 on Friday night at Van Andel Arena.

After going 18-4-0-1 against Grand Rapids, Rockford is now 4-8-0-0 dating back to last season against the Midwest DIvision foes.

For the 13th time in 17 games this season, Rockford's opponent claimed the game's first goal. On Friday, Tomas Jurco knocked in a centering pass from Gustav Nyquist past Kent Simpson just 2:22 into the contest for his sixth goal of the season.

Rockford tied the game at 1-1 with good persistence from Jeremy Morin. Morin's initial shot on Petr Mrazek was denied by the Griffins puck stopper, but the rebound found the winger and he knocked home his fifth goal of the season at 9:42 on the second attempt.

Later in the frame, Grand Rapids had 1:58 of 5-on-3 power play time, but Rockford was able to stave off the two-man advantage and skate into the first intermission tied.

In the second period, Rockford wasn't as fortunate on Grand Rapids' lone power play of the frame. Teemu Pulkkinen blasted home his seventh goal of the season, and fifth against Rockford, at 16:46 to put the Griffins back on top, 2-1.

Off a face-off in the third period, Jeff Hoggan stretched the Griffin's lead to 3-1. The winger cleaned up a Brennan Evans rebound at 7:47 for his sixth goal of the season. Then on a power play later in the stanza, Nyquist set up Jurco once again for his second of the night on the back door at 10:02.

Rockford countered just 18-seconds later when Alex Broadhurst put back a Morin rebound for his fifth marker at 10:20, bringing the Hogs back down by a pair at 4-2.

Grand Rapids came right back though to make it 5-2 when Jurco completed his hat trick at 15:59 as he fired a puck from the left corner off of Simpson and in.

For the second time in the period Rockford responded 18-seconds later when Joakim Nordstrom hammered home his first goal of the season after he pounced on a loose puck at 16:17. That's as close as Rockford would get though, despite a couple of good looks in the final two minutes on Mrazek and the Griffins net.

Next Home Game: Saturday, Nov. 16 vs. San Antonio Rampage. The puck drops at 7 p.m. and the first 2,500 fans through the gates will receive a Dri-fit baseball hat courtesy of Pepsi. For tickets visit IceHogs.com.