ITEM DRIVE, RALLY TOWELS & TOMMY HAWK SET FOR THURSDAY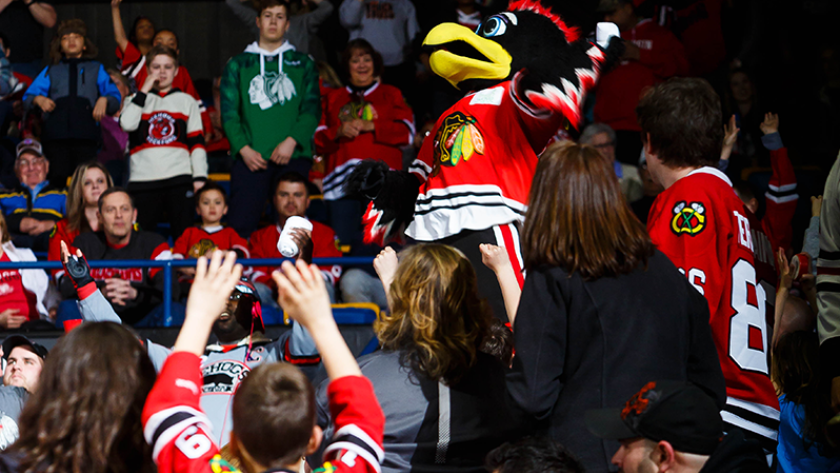 ROCKFORD, Ill. – The Rockford IceHogs seek to extend their playoff run with a Game 4 matchup against the Texas Stars in the Western Conference Finals at the BMO Harris Bank Center on Thursday, May 24 at 7 p.m. The promo slate for the postseason showdown features an appearance by Chicago Blackhawks mascot, Tommy Hawk, an item drive by the IceHogs players' wives and girlfriends for Rock House Kids and free rally towels, courtesy of LawnCare by Walter, Inc., Mr. C's Family Restaurant and Anderson Toyota.
THURSDAY, MAY 24 vs. TEXAS STARS
Time: Puck drop is 7 p.m. Doors open at 6 p.m.
Item Drive for Rock House Kids: Fans who make a donation to Rock House Kids at the entrance of the arena on Thursday will receive a voucher for a $10 upper-sideline ticket to the IceHogs' Home Opener for the 2018-19 season on Saturday, Oct. 13 at 6 p.m.
Suggested donations include flip flops, paper products, plastic silverware, Styrofoam cups, personal-hygiene items and gently-used fall and winter clothing. The IceHogs will also accept "food bag" donations of single-serving sized nutritional items, including dry cereals, breakfast/nutrition bars, gummy fruit snacks, fruit/pudding cups and juice boxes/Capri Sun.
Rock House Kids is a 501(C)3 charity which seeks to provide physical, spiritual and emotional support to at-risk children. The organization has been assisting Rockford's inner-city children since 1999.
Rally Towel Giveaway: The IceHogs are helping fans participate in the "red out" for the 2018 Calder Cup playoffs with a free red rally towel for the first 2,500 in attendance on Thursday, courtesy of LawnCare by Walter, Inc., Mr. C's Family Restaurant and Anderson Toyota.
Tommy Hawk: Blackhawks mascot, Tommy Hawk, will be on-hand during the IceHogs and Stars contest to participate in games during intermission, interact with fans and ride the Hamboni. Tickets to ride along with the Blackhawks mascot on the Hamboni during second intermission are available for just $10 (eight seats available), and fans can purchase seats by calling (815) 986-6465.
Tickets: Tickets can be purchased at the BMO Harris Bank Center Box Office or any Ticketmaster location, by phone (815 968-5222) or online at www.IceHogs.com.
Broadcast: Fans can tune in to all the action on WIFR's 23.2 Antenna TV, beginning with IceHogs Warmup at 6:30 p.m. IceHogs fans can also listen to the game at sportsfanradio1330.com or icehogs.com, or watch live at AHLlive.com (subscription required). Fans can also follow in-game updates via the IceHogs' Twitter, @goicehogs.