Isaak Phillips' Stellar Season Capped with IceHogs Rookie of the Year Award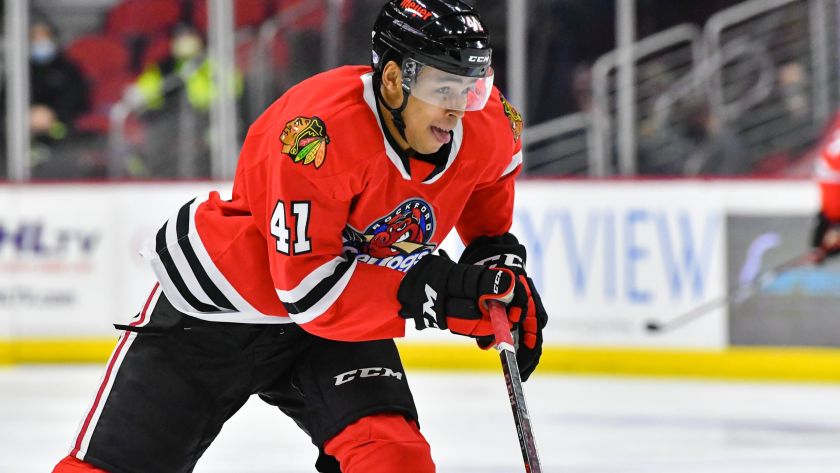 ROCKFORD, Ill. – The Rockford IceHogs, proud American Hockey League (AHL) affiliate of the Chicago Blackhawks of the National Hockey League (NHL), announced today that defenseman Isaak Phillips is the winner of the team's Rookie of the Year award for the 2021 season.
Drafted by the Chicago Blackhawks in the fifth round (141 overall) last summer, Phillips, 19, joined the IceHogs on an amateur tryout agreement in late January with the possibility of returning to junior hockey, but instead, the Barrie, Ontario, native found a home with the IceHogs.
In 27 games with the IceHogs this season, the 6-foot-3, 195-pound, defenseman registered two goals and seven assists for nine points and placed fourth among team rookie defensemen and 10th overall with an average ice time of 19:22 per game. Phillips also showcased his dependability this season, being one of just six skaters to appear in 27 or more games for the IceHogs (32 game schedule).
"It's was definitely an exciting year," said Phillips. "It was a good year for myself and a good year to grow with the team. For me, it puts a cap on the year I've had and hopefully I can carry this momentum into next year. I've tried to show up to the rink every morning with a purpose, try to get better every day and take something out of each day because I was lucky enough to get an invite down here. A lot of my friends are in Canada waiting to play, so I come to the rink every morning with a smile on my face, try to get better on the ice and work as hard as I can."
Quickly earning high praise from coaches and teammates alike, the Blackhawks awarded Phillips with this first NHL contract on Mar. 31, a three-year entry-level deal through the 2023-24 season.
"This is the most important day that I've had so far," added a grinning Phillips on his signing day. "It's what I've been working for my whole life and happy to see it come to fruition here. With COVID, I got an unexpected opportunity here and I made the most of it. Coming in, I was confident in my size and skating ability that I could play at the level. I know it would be a bit of an adjustment, but I was never doubting myself or anything. I remember talking with my family before coming down here and said that I was going to come back with an NHL contract and that's happened and I couldn't be happier."
Before joining the IceHogs, Phillips skated for the Sudbury Wolves of the Ontario Hockey League during the 2019-20 season, recording 26 points (nine goals, 17 assists). His 26 points ranked second among Sudbury defensemen. Over two seasons (2018-20) with the Wolves, he tallied 40 points (12 goals, 28 assists) in 131 games. Phillips also skated for Team Jamaica in the U20 Team Elite Prospect Tournament in 2018.
IceHogs Rookie of the Year Award Winners
99-00 Evgeny Krivomaz
00-01 Chris Fattey
01-02 T.J. Guidarelli
02-03 Steve Cygan
03-04 Maris Ziedins
04-05 Steve Pelletier
05-06 Yannick Tifu
06-07 Kaleb Betts
07-08 Jack Skille
08-09 Pete MacArthur
09-10 Brian Connelly
10-11 Ben Smith
11-12 Joe Lavin
12-13 Adam Clendening
13-14 Garret Ross
14-15 Ville Pokka
15-16 Vince Hinostroza
16-17 Luke Johnson
17-18 Matthew Highmore
18-19 Dylan Sikura
19-20 Brandon Hagel
20-21 Isaak Phillips