ILLINOIS ASSOCIATION OF PARK DISTRICTS AWARDS ICEHOGS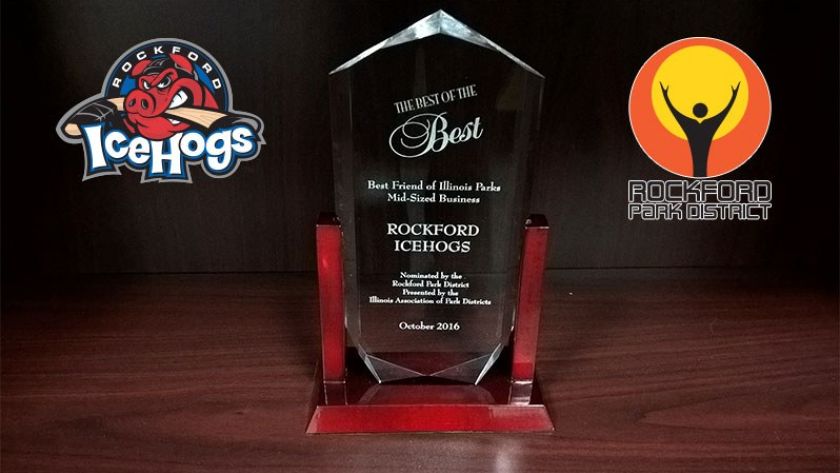 Rockford, Ill. – The Illinois Association of Park Districts awarded the Rockford IceHogs of the American Hockey League with the Best Friends of Parks Award- Mid-Sized Business, at the 2016 Best of the Best Awards Gala.
Nominated by the Rockford Park District, the award is given to 'a business or corporation that has demonstrated exemplary support of a local park district, forest preserve, conservation, recreation or special recreation agency'.
"Our community is fortunate to have an absolute first class park district with the Rockford Park District," said IceHogs Director of Business Operations Mike Peck. "We are honored that the Rockford Park District nominated the IceHogs and flattered that the IAPD recognized our organization. We love our Park District here in Rockford as they provide so many resources that positively adds to the quality of life in our community."
The IceHogs pride themselves for their work in the community, including their involvement and partnership with the Rockford Park District. Since 2003, the IceHogs have teamed up with the Rockford Park District to form the Junior IceHogs youth hockey program. The Hogs have also donated thousands of dollars to the foundation, provided in-kind sponsorship support, rented out facilities, and volunteered time working with hockey participants. Chicago Blackhawks Director of Hockey Operations and General Manager of Minor League Affiliations Mark Bernard has also been a featured speaker at Rockford Park District's full staff meeting and news conference.
The Rockford IceHogs have supported the Rockford Park District financially through a variety of fundraising initiatives including golf fundraiser "Birdies & Blades" and "Skate with the Rockford IceHogs." Between these events and several others over the past five years, the IceHogs have contributed over $23,130 to the Junior IceHogs youth hockey program.
In April 2012, the collaboration teamed up to create the Junior StreetHogs, an outreach street hockey program for at-risk youth. Hundreds of kids participate in the program annually.
Since the IceHogs inception in 1999, the team has contributed over $1 million to the Rock River Valley through donations and player, coach, mascot and staff appearances.
Next Home Game: Friday, Oct. 28 vs. Chicago at 7 p.m. The IceHogs take on Illinois Lottery Cup rival the Chicago Wolves for the first time of the 2016-17 season. Donald Trump and Hillary Clinton bobble heads will be given away to the first 2,500 fans courtesy of Dental Dimensions.