IIHF World Championship Update: Grimaldi Scores for Team USA in 4-1 Win over Austria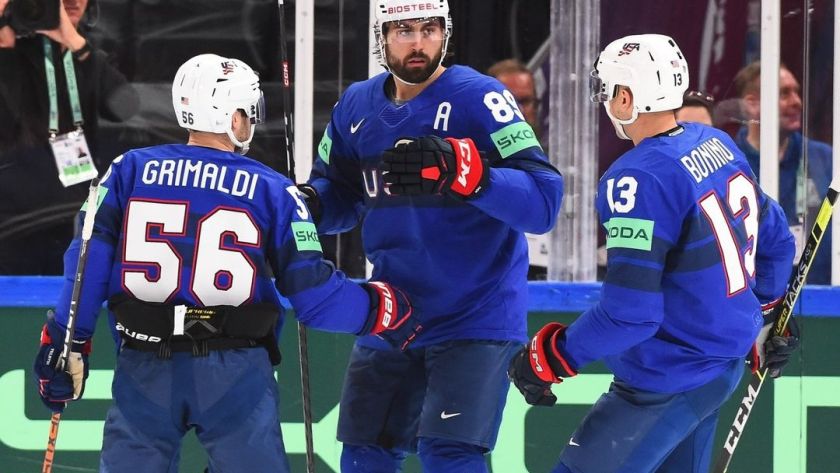 Tampere, Finland - Team USA defeated Austria 4-1 at Nokia Arena in Tampere, Finland today during the Preliminary Round of the 2023 IIHF World Championship. With the win, Team USA moved to 4-0-0-0 (W-OTW-OTL-L) in the round robin and leads Group A with 12 points. IceHogs alumnus Rocco Grimaldi scored the game's first goal and now has five points (2G, 3A) in four tournament games.
Just over seven minutes into the contest, Team USA captain Nick Bonino wrapped the puck around the Austrian net and fed Grimaldi just off the left post. Grimaldi was able to shovel the puck past the sprawling Austrian goaltender Bernhard Starkbaum to give Team USA a 1-0 lead. Grimaldi's tally marked the first time in the tournament that Team USA started the scoring.

Austria's Thomas Raffl tied the game at 1-1 with a power-play goal late in the second period, but former IceHogs opponent and Grand Rapids Griffin Carter Mazur regained the lead for the Americans less than a minute later.
Lane Hutson extended Team USA's lead to 3-1 early in the third frame, and Nick Perbix tacked on an empty-netter to seal the win.
Grimaldi currently leads Team USA in scoring with his five points and has been skating on the Americans' top line with NHL veterans Bonino and Alex Tuch. Grimaldi and Bonino both played together on the Nashville Predators for two seasons in 2018-19 and 2019-20.
The California native Grimaldi posted 17 points (6G, 11A) in 16 games with Rockford at the end of the regular season and led the team in scoring with four points (1G, 3A) in five games during the postseason. This year's IIHF World Championship is the fifth tournament in which Grimaldi has represented Team USA internationally. Back in late 2009 and early 2010, he first appeared with the U17 squad and helped his team win gold by producing 14 points (4G, 10A) in just six games before jumping up to U18 a few weeks later and helping guide his new side to another gold medal with 10 points (2G, 8A) in seven tournament games. The next year in 2011, Grimaldi posted eight points (2G, 6A) in six U18 tournament games to capture his third gold medal. His fourth gold medal followed in 2013 when he registered four points (2G, 2A) in seven games with the U20 Team USA squad.
IceHogs alumnus and goaltender Drew Commesso is also on Team USA for the 2023 IIHF World Championship but has not appeared in yet in a game.
Team USA takes on Denmark next at 4:20 AM ET at Nokia Arena on May 20. See below for a breakdown of the IIHF World Championship Tournament Format.