#ICEHOGS25K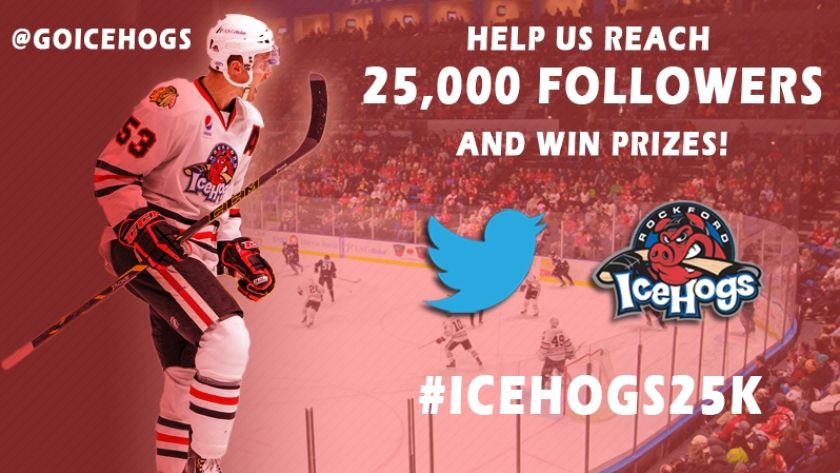 Help the IceHogs reach 25,000 followers on Twitter and win prizes

The IceHogs are nearing a social media milestone and they are looking for some help from Hog Nation in order to get there! In anticipation of reaching the 25,000-follower plateau on Twitter (@GoIceHogs), the IceHogs are announcing the #IceHogs25K campaign to get over the hump.

In addition to celebrating the milestone, the IceHogs are thanking their loyal followers by giving away prizes during the #IceHogs25K drive, and giving one follower the opportunity to join the Rockford social media staff in the US Cellular Press Box during an upcoming IceHogs game.

Starting on Wednesday, Feb. 25, for each 100 follwers the @GoIceHogs account gains, one random fan will win a prize, ranging anywhere from signed memorabilia to game tickets. Then, once the 25,000-follower mark has been reached, one random fan will be picked to receive two tickets to an upcoming game, and will be invited up to the press box to see firsthand how the IceHogs' social media is operated.

The IceHogs Twitter account is the source for up-to-the-minute game updates, team news, photos , videos and much more. Also make sure to like the IceHogs on Facebook (/RockfordIceHogs) and Instagram (rockfordicehogs) to avoid missing any content in the future.

Fans must have a Twitter account and follow @GoIceHogs to be eligible to win.