ICEHOGS TURNING PAGE ON REGULAR SEASON TO FIND PLAYOFF SUCCESS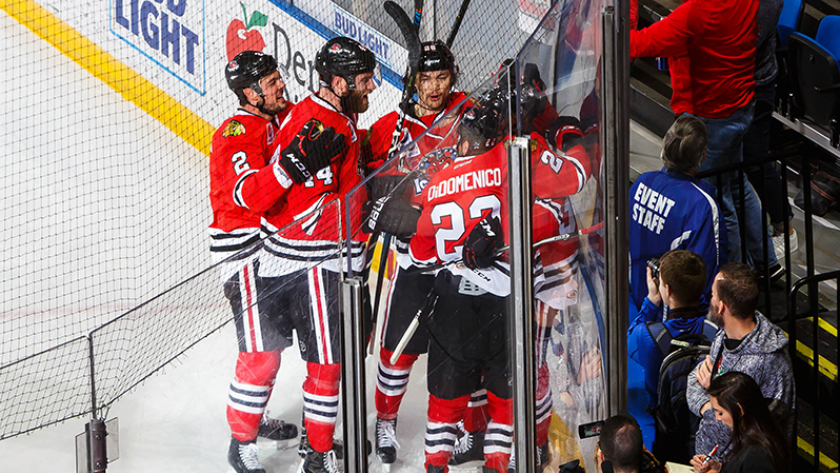 ROCKFORD, Ill. – In their final two outings of the 2017-18 regular season, the Rockford IceHogs conceded 11 goals and lost both contests to the Chicago Wolves. But in the two weeks since the final horn of the regular season, the IceHogs have dominated play to gain a 2-0 advantage in their best-of-five series in the first round of the Calder Cup playoffs against – guess who – the top-seeded Chicago Wolves.
Rockford's turnaround from dropping games at the tail end of the 76-game slate to now being just one win shy of advancing to the second round is a credit to the team's level of commitment, but IceHogs Head Coach Jeremy Colliton knows that the team can't get caught looking too far ahead.
"Yeah we have the advantage, and you've got to pull the trigger when you do (have the advantage). We have to expect their best game of the series, so we're going to prepare expecting that," he said.
"We already forgot about the (wins over the) weekend. I think it's important that we're humble and realize that it's a very good team over there (Chicago). We need to be at our best."
The IceHogs have been at, or near, their best through their first two contests in the playoffs, and their victories have largely been fueled by contributions from the back end. Three defensemen have nabbed nine of Rockford's 19 total points, with each posting at least two points thus far. And of Rockford's 15 power-play points, seven have been chipped in by blueliners.
But while those numbers may seem extraordinary, none of it comes as any surprise to Colliton.
"They have been (producing points) all year. The second half (of the season), we've been getting a lot of production from our defense. It's kind of part of our package that we bring as a team. A lot of that comes from the power play, and they're a big part of it…that's kind of what we expect from them. That's what makes them good players and us a good team, so we need them to keep going," he said.
One of those defensemen, Adam Clendening, leads the team with a goal and three assists in the playoffs. He credits Rockford's versatility for its hot start to the postseason.
"It's a good thing about our group that we can play multiple styles. If teams want to grind it out, chip and chase and play that kind of style, then we have the tools to do it. And if it's a skilled, possession game, we can play that too," said Clendening, noting that his preference to keep the puck and play a possession-driven game, "It's a dangerous combination when you can play like that, and right now we're dictating it."
Clendening partners with Cody Franson on one of the IceHogs' power-play units, where the duo has wreaked havoc on Chicago's penalty-killers. Their combined seven points on the man-advantage stand as a testament to Rockford's special-teams firepower.
"We knew this was going to turn into a bit of a special-teams battle. They (Chicago) have a really good power play, and ours has been going pretty good lately. A lot of our offense has come on the power play so far, and if our defense can chip in on that, then that's great," said Franson.
But even teams in fantastic form are sometimes prone to mistakes, and the Hogs have a safety net in goaltender Collin Delia. The rookie netminder has helped Rockford to its current series stranglehold with 59 saves on 62 shots en route to two wins in his first taste of postseason play.
"He's played well, and you need that," said Colliton of his young goalie, "Part of winning in the playoffs is that your goalie's got to come through and make some saves. He did that (in the first two games) and he's done that for a while now, and we need him to."
Delia ranks second in the AHL with a 1.51 GAA and .952% save percentage through two games in his playoff campaign, but he is quick to credit the skaters in front of him for stifling a Wolves attack that finished the regular season ranked sixth in the League with 3.21 goals per game.
"They (Chicago) have a lot of guys with a lot of skill, but I think when we have back pressure through the middle, we can limit their chances. They like to move the puck a lot up top as they enter the zone, so I think when we have that back pressure, it eliminates that chance for them to move," he said.
Now, as the chance to sweep their bitter rivals from Rosemont in Thursday's Game 3 nears, Colliton's IceHogs are prepared to keep their momentum rolling – perhaps straight into the second round of the playoffs.
"It's a short series, and it can change pretty quickly if we let our foot off the gas here," said Colliton.
"But I don't think it's going to be an issue. We'll be ready."