ICEHOGS TO HOST HOCKEY FIGHTS CANCER NIGHT ON FRIDAY, NOV. 23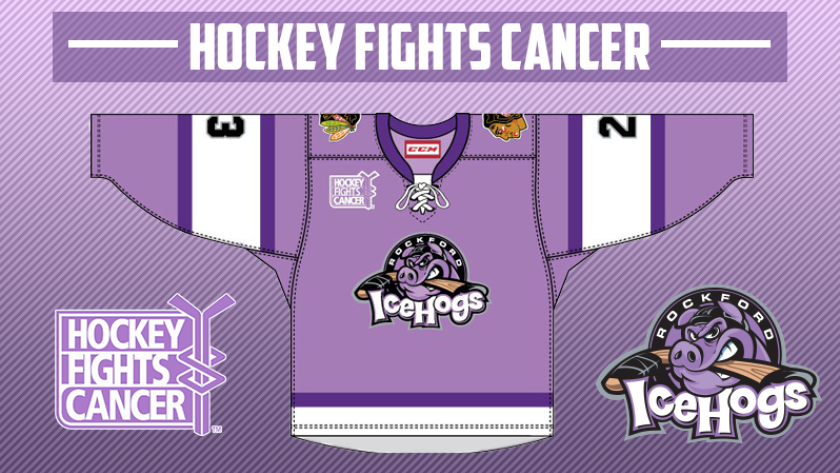 ROCKFORD, Ill. – The Rockford IceHogs will be helping in the fight against cancer throughout the month of November, with the team's efforts culminating in their first ever Hockey Fights Cancer Night™ (HFC) on Friday, Nov. 23 at 7 p.m. at the BMO Harris Bank Center.
The IceHogs will begin their month-long initiatives through their partnership with Brovember Inc., a charitable organization based in Rockford dedicated to raising awareness of men's cancer issues. Several IceHogs players will be growing out their mustaches in support of the cause, and the Hogs will post updates on social media throughout November to help drive awareness of Brovember and men's cancer issues. Fans can get involved by growing out their own facial hair and sharing their pictures on social media, and also by voting for the best mustache of the IceHogs players.
Rockford's initiatives for Brovember lead up to the team's first ever Hockey Fights Cancer night on Nov. 23 against the Chicago Wolves. The IceHogs will don limited-edition lavender Hockey Fights Cancer themed jerseys for the contest, and the specialty sweaters will be auctioned off following the game, with proceeds benefitting SwedishAmerican Foundation.
Throughout the evening on Hockey Fights Cancer Night, the IceHogs will be honoring and recognizing those whose lives have been impacted by cancer. Rockford forward William Pelletier will share his inspirational story of his father's battle to overcome prostate cancer.
Fans are encouraged to wear lavender to the game to join the support of the Hockey Fights Cancer initiative.
Founded in 1998 by the National Hockey League® and the National Hockey League Players' Association, Hockey Fights Cancer unites the hockey community in support of cancer patients and their families. The initiative gets an assist from players, coaches, officials, equipment managers, front office staff, corporate partners and fans. Together, the hockey family looks to inspire hope and courage for those who are living with, going through and moving past cancer.
The IceHogs organization, from the players and coaches in the locker room to the staff in the front office, is proud to join the initiative this year to help support the many members of our community and hockey family who have been directly impacted by cancer.
For additional information on Hockey Fights Cancer, click HERE.
NEXT HOME GAME: Saturday, Nov. 3 vs. Iowa Wild | 6 p.m.
The Rockford IceHogs will host the Iowa Wild Saturday night at the BMO Harris Bank Center for Military Appreciation Night. The first 2,500 fans through the will door will receive a free military-themed IceHogs baseball hat, courtesy of Rose Pest Solutions.