ICEHOGS STUMBLE IN 3-1 LOSS TO WILD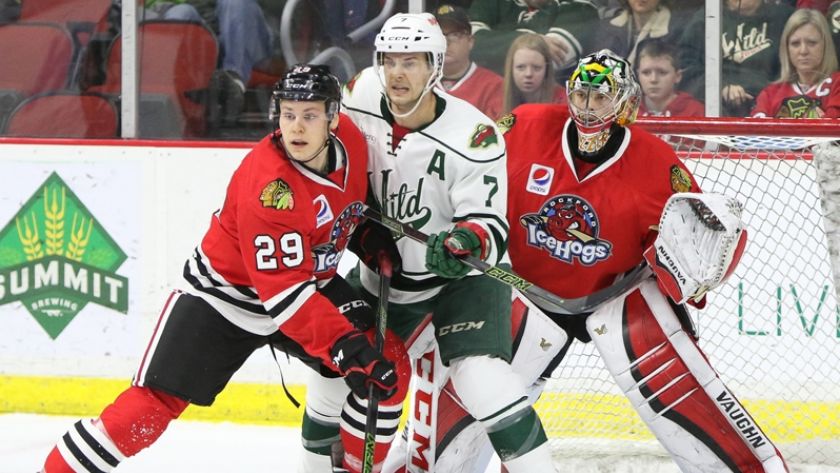 Des Moines, Iowa – The Rockford IceHogs (18-7-2-3) had their nine-game winning streak against the Iowa Wild (7-22-2-3) snapped on Sunday afternoon as the Wild took a 3-1 win over the Rockford IceHogs. The regulation loss also snapped a six-game road point streak, dating back to a Dec. 2 win over the Texas Stars.

For the sixth straight game, the IceHogs surrendered the opening goal. Colton Beck led a three-on-one rush into the Rockford zone and made a quick pass to Mike Reilly on the right side. Reilly quickly fired a shot that squeezed between the arm and body of Mark Visentin to give the Wild a 1-0 lead at 7:35.

Mark McNeill answered back for the Hogs at 15:17 of the opening period. P.C. Labrie fired a shot towards the net and Tanner Kero snapped the rebound just over the crossbar. McNeill pulled the rebound off the end boards and snuck a shot inside the right point to even the score.

Just 2:43 later, the Wild regained their advantage. While on the power play, Christoph Bertschy moved the puck to Reilly, who quickly found Grayson Downing at the top of the right circle. Downing walked to the front of the cage and blasted a shot off the crossbar and into the net as Iowa took a 2-1 lead into the intermission.

Despite outshooting Iowa 9-3 during the second period, Rockford could not solve the goaltending of Jeremy Smith and continued to trail 2-1 going into the third. The three shots allowed by Rockford tied a team season-low for shots allowed in a single period.

Rob Bordson put the game away for the Wild when he wristed a shot from just inside the blueline along the left wall, and the puck tipped off the glove of Visentin before settling into the net.

Smith finished the contest with 26 saves to earn the win for the Wild while Visentin stopped 15-of-18 for the IceHogs.

Next Home Game: Wednesday, Dec. 30 vs. Chicago Wolves at 7 p.m. The first 1,000 kids (14 & under) to the game with receive a free youth jersey courtesy of OrthoIllinois. The Illinois Lottery Cup contest is also another "Winning Weekday." If the IceHogs win, every fan in attendance will receive a free ticket to the next weekday game. Fans can also enjoy $2 beers, sodas, hot dogs, and companion tickets.