ICEHOGS & SALVATION ARMY TEAM UP FOR RED KETTLE NIGHT, BATTLE OF THE BELLS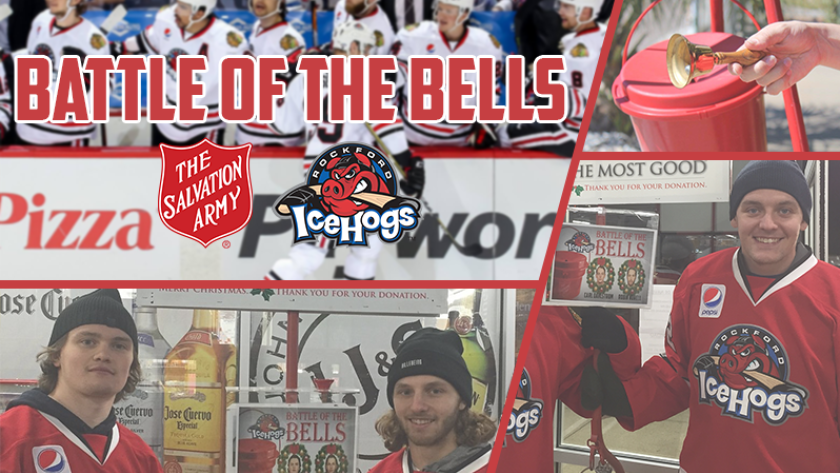 ROCKFORD, Ill. – The Rockford IceHogs are teaming up with the Salvation Army to help spread Christmas cheer this holiday season.
The partnership begins with Red Kettle Night at the IceHogs' home game this Saturday at the BMO Harris Bank Center. The Salvation Army will have bell ringers on the concourse to collect donations throughout the evening, and fans who make a donation of at least $20 will receive a free ticket voucher for any remaining IceHogs home game in the 2018-19 season.
The Salvation Army Band will also be on-hand to treat fans to live music in the Blue Flame Lounge prior to puck drop between the IceHogs and Milwaukee Admirals Saturday night. Doors open at 5 p.m. and puck drop is set for 6 p.m.
The IceHogs will then take up a Red Kettle post of their own next Tuesday (Dec. 4) to help raise money for the Salvation Army in the annual Battle of the Bells. Fans are invited to stop by the bell-ringing stations at Woodman's Food Market (3155 McFarland Road) from 6-8 p.m. to meet the IceHogs players, take pictures, make a donation and get autographs from each Hogs skater.
Fans who make a donation of at least $20 at the Red Kettle post during Battle of the Bells will receive two ticket vouchers for any remaining IceHogs home game during the 2018-19 season.
The following players are scheduled as bell-ringers for the Salvation Army Tuesday evening:
Woodman's Market (6-7 p.m.)
Lucas Carlsson
Blake Hillman
Jacob Nilsson
Luc Snuggerud
Woodman's Market (7-8 p.m.)
Carl Dahlstrom
Victor Ejdsell
Hunter Fejes
Kevin Lankinen
*Players subject to change
Next Home Game: Saturday, Dec. 1 vs. Milwaukee Admirals | 6 p.m.
The IceHogs will host the Milwaukee Admirals for Teddy Bear Toss Night at the BMO Harris Bank Center. Fans are encouraged to bring in plush toys/animals to throw on the ice after the IceHogs score their first goal of the game. The stuffed animals will then be donated to local hospitals and kids charities.