IceHogs Rally to Down Rocket in Five-Round Shootout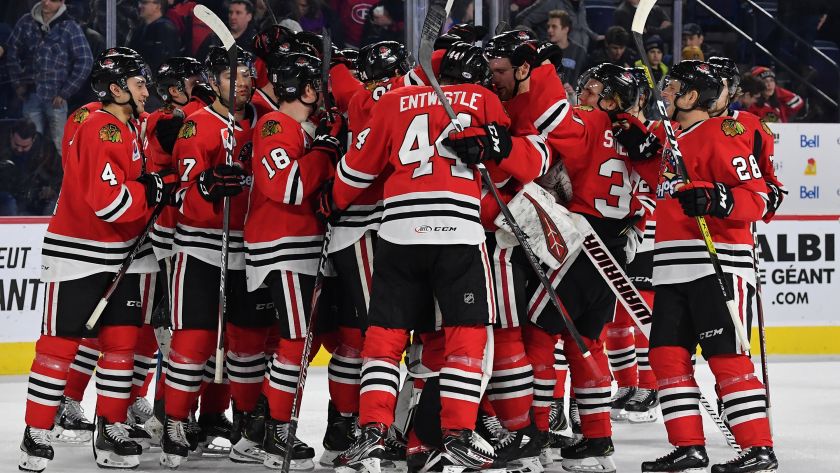 1st
2nd
3rd
Final

—
—
—

—
—
—

Tuesday, July 27
LAVAL, Que. – Dmitry Ospiov knotted the score in the third and Anton Wedin netted the only goal in a five-round shootout to lift the Rockford IceHogs over the Laval Rocket by a score of 3-2 at Place Bell on Tuesday night.
With 8:46 remaining in the third period and the IceHogs down 2-1, Dmitry Osipov corralled a pass at the point and fired a wrister that squeaked through the legs of Rocket goaltender, Keith Kinkaid, to tie the game at two apiece.
Kinkaid and IceHogs netminder, Collin Delia, stood tall through the rest of regulation and the ensuing overtime period to force a breakaway contest in which both goalies stonewalled the first four shooters.
In the fifth round, Laval's Joe Cox made a masterful move that Delia sprawled to turn away, and with an opportunity to end the game, Wedin entered the zone and ripped a shot under Kinkaid's glove that delivered Rockford the second point in the standings.
The Rocket originally opened scoring with two goals in the first frame, but Joseph Cramarossa cut the lead in half when he went forehand to backhand on a shorthanded breakaway halfway through the second period.
Delia earned the win with 31 stops on 33 shots while Kinkaid finished the contest with 20 saves on 22 attempts.
---
GAME NOTES
With the victory on Sunday, it makes 20 contests in which the IceHogs have not lost back-to-back games...in that span, Rockford possesses a record of 14-5-0-1.
Rockford earned its first road winning streak of the season with wins over Toronto on Sunday and Laval on Tuesday...the Hogs have now worked to a 6-6-0-1 road record after initially dropping three of their first four away from home.
Collin Delia earned his third straight win on Tuesday and is now 5-5 on the season...he has stopped 96 of 101 shots during his win streak.
Dmitry Osipov's game-tying tally was the first goal of his AHL career and came in his 24th career AHL game...additionally, Joseph Cramarossa's shorthanded marker was his first score as a member of the IceHogs.