ICEHOGS RAISE MORE THAN $30,000 FOR CHARITIES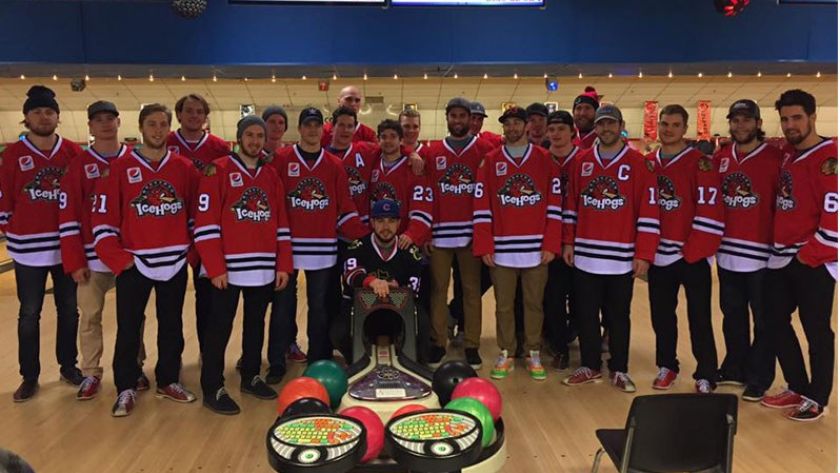 Rockford, Ill. – The Rockford IceHogs announced they have raised $30,536 in funds from their recent annual Autism Awareness Night and Bowl-A-Thon events. Proceeds from the fundraisers will benefit the Autism Program of Easterseals and Families with HD Rooted in Hope, Inc., respectively.
The IceHogs hosted their 2016-17 Autism Awareness Night on March 4, auctioning off team "player baskets" that featured a variety of the Hogs players' favorite items, including hats, clothing, gift cards, food, drinks and signed memorabilia. The annual event also featured the return of "mystery pucks," with fans purchasing a puck that featured a surprise signature from either a Rockford IceHogs or Chicago Blackhawks skater.
The Autism Program of Easterseals, IceHogs Booster Club and IceHogs players' wives and girlfriends also generously donated their time to assist in the setup and execution of Autism Awareness night.
Through the combined sales of the baskets and mystery pucks, the Hogs raised $21,055 in funds for the Autism Program of Easterseals.
The following weekend, the IceHogs hosted their eighth annual Bowl-A-Thon at Cherry Bowl on March 11. Fans took the lanes with Hogs players and coaching staff in an event to raise awareness and funds for the treatment of Huntington's Disease. The event raised $9,481 for IceHogs charities and Families HD Rooted in Hope, Inc.
Additionally, the IceHogs Booster Club made a $2,000 donation to families with Families with HD Rooted in Hope, Inc. during the Bowl-A-Thon event.
Families with HD Rooted in Hope Inc. is an organization a nonprofit foundation that provides support and services to families affected by Huntington's Disease. The organization was founded and is supported by IceHogs captain Jake Dowell, and Jake's mother, Vicki, as a resource to assist families affected by HD.
Jake lost his father, John, to Huntington's Disease in 2014, and his older brother, Luke, is currently battling HD. Jake received news in December, 2015 that he does not carry the gene affected by Huntington's Disease.
Families with HD Rooted in Hope, Inc. can be contacted at (715) 956-1865. Donations can be mailed to 600 Graham Ave. #507 Eau Claire, WI, 54701.
Next Home Game: Saturday, March 25 vs. Grand Rapids, 7 p.m. The IceHogs host Country Night with the first 1,500 fans in attendance receiving a cowboy boot mug, courtesy of Pepsi and Dusty Boots. The Hogs will also host their fourth annual Sock Drive with donations benefitting Project Undershare.