ICEHOGS RAISE $11,548 AT BOWL-A-THON, COLLECT OVER 4,000 SOCKS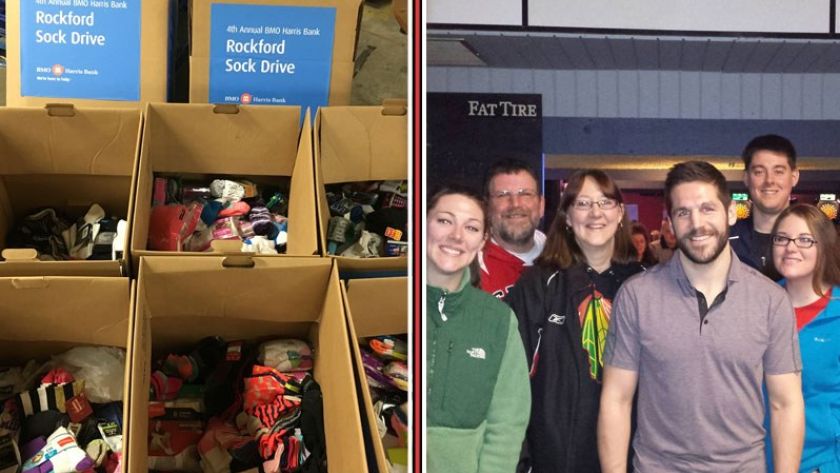 Rockford, Ill. – The Rockford IceHogs announced the results of their 4th annual Sock Drive and 7th annual Bowl-A-Thon, which were held last weekend in the local community.

The IceHogs teamed up with BMO Harris Bank to collect new pairs of socks at the 4th annual Sock Drive culminating with the team's game on Friday, Feb. 19. In addition to the socks donated at BMO Harris Bank branch locations, the team's fans contributed over 4,000 pairs of socks during the Sock Drive. The socks collected will be donated to Project Undershare, which will distribute them to needy families in the area.

The team also held its 7th annual Bowl-A-Thon on Sunday, Feb. 21 at Cherry Bowl, where players bowled with fans while raising money for the Huntington's Disease Society of America – Wisconsin Chapter. This season's event raised more money than any previous Bowl-A-Thon, as fans donated $11,548. Proceeds from the Bowl-A-Thon will be donated to the HDSA, where they will be used to help find a cure for Huntington's disease and aid affected families.

Huntington's disease is a fatal, incurable genetic disorder that progressively breaks down the nerve cells in the brain, deteriorating a person's physical and mental ability. Children of affected parents have a 50/50 chance of inheriting Huntington's, which currently affects 30,000 Americans. IceHogs forward Jake Dowell lost his father to Huntington's disease and has a brother who currently suffers from it. Recently, Dowell received news from doctors that he does not carry the gene, but is still committed to raising awareness and funds to find a cure for the disease.

The IceHogs have raised more than $62,000 over the seven years the team has held the Bowl-A-Thon and would like to extend thanks to this year's sponsors. Buffalo Wild Wings, Texas Roadhouse, Outback Steakhouse, Ole Salty's, Stockholm Inn, Jersey Mike's, Papa John's, Comcast, and the Beloit Snappers all made generous contributions while team photographers Greg Hamil and Todd Reicher donated photos that were sold at the event.

To see photos from the Bowl-A-Thon, visit the team's album on Facebook here.

Next Home Game: Tickets for Saturday, March 5 vs. Lake Erie Monsters at 7 p.m are SOLD OUT. Tickets still remain for the game on March 6 versus the Monsters at 4 p.m. After the game, the team will host a "Skate with the Hogs" event where fans will be welcome to skate on the ice with their favorite IceHogs players.