ICEHOGS GOALS = BERNIE'S BEARS IN NOVEMBER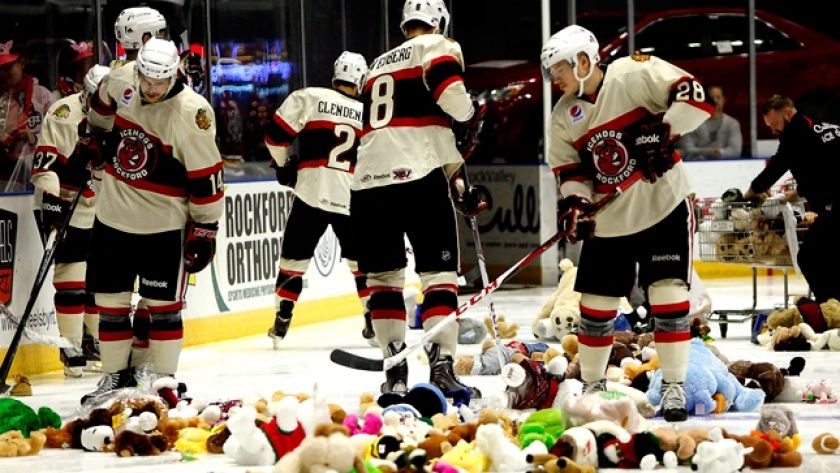 Hogs GM to donate stuff animals for charity

Rockford, Ill.- Chicago Blackhawks General Manager of Minor League Affiliations Mark Bernard will be rooting even harder for the American Hockey League's Rockford IceHogs to score goals in the month of November.

Bernard, along with his wife Julie, will donate a stuffed animal for the IceHogs Annual Teddy Bear Toss game on Saturday, Dec. 6 against Grand Rapids at 7 p.m., for every goal the IceHogs score in the month of November.

"Julie and I have always been so appreciative of the way that our family has been treated since we first came to Rockford in 2003 and we feel that this is a tremendous way to give back to the community," said Bernard. "We encourage and challenge local businesses and IceHogs fans to match or participate in this great cause and make the Teddy Bear Toss on Dec. 6 the biggest in IceHogs history."

The promotion will start on Saturday, Nov. 1 when the IceHogs take on the San Antonio Rampage. Overall, Rockford will play 13 November games.

All stuffed animals collected on Teddy Bear Toss Night, including all of Bernie's Bears, will be donated to local hospitals and charities in the Rockford area. On Dec. 6, fans are invited to bring a new stuffed animal to the game and after the IceHogs score their first goal, fans to toss them onto the ice.

Last season, the generous IceHogs fan base tossed over 6,000 stuffed animals onto the ice during the teddy bear toss.

For more information on the teddy bear toss or for tickets to the game, visit IceHogs.com.

Next Home Game: Tuesday, Nov. 4 vs. Lake Erie Monsters at 7 p.m. It's a WXRX Dollar Day at the BMO Harris Bank Center as hot dogs, sodas, beers and companion tickets will be available for one dollar each.