ICEHOGS GOALIE TRIO A STEADY FORCE IN 2018-19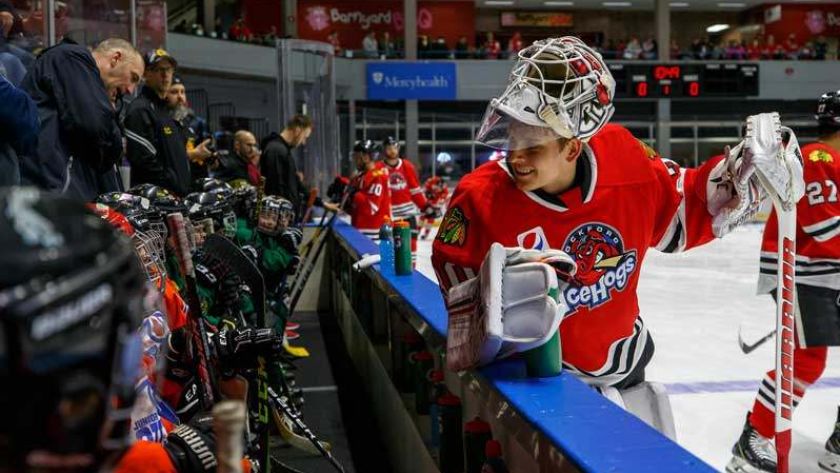 The battle-tested veteran, the hot-shot taco expert and the new kid on the block.
Anton Forsberg, Collin Delia and Kevin Lankinen rolled through the AHL last season with the third-best team save percentage (.917) and allowed two goals or less in 43 of their combined 77 appearances last year (55.8% of the games).
Anton Forsberg
Building off a 35-game NHL campaign with the Chicago Blackhawks last year and entering his fifth pro season, Anton Forsberg provided a calm presence between the posts, tying for third in the league with a .919 save percentage and 17 with a 2.64 goals-against average. The Swedish native picked up saves at a torrid pace, playing nearly every other game from late November through the end of the season. In December, he registered a season-high 49 saves vs. Texas, one appearance after helping the IceHogs to victory with 41 stops vs. Grand Rapids.

"When I got down here, I wanted to make the most of the opportunity," Forsberg mentioned during exit interviews. "I'm happy I got to play a lot and I thought the coaching staff did a great job getting everyone to play. We would find those extra minutes to work on details and have conversations with him (Blackhawks Goalie Coach Peter Aubry). That was the biggest reason why the goalies played so well."

Forsberg looks to use these success and experiences to land him a new contract as he enters the offseason a restricted free agent.


Collin Delia
Rising through the goaltending depth chart as a rookie last season including some time in the NHL, Collin Delia had a solid foundation to leap from entering the new campaign. He grabbed points in six of his first seven games and 11 of his 17 appearances prior to the New Year, earning him an AHL All-Star nomination before joining the Blackhawks for all of January and February (16 games, 6-4-3, 3.61 GAA, .908 save percentage).

"I think every season is experience. Good, bad or indifferent, it's going to help you grow," said Delia. "I gained a lot of that this year being here (in Rockford) or in the National Hockey League. Faced a lot of shots. Faced a lot of situations and take something from them and add it to my game. Personally, I'm excited for the years to come."

The Blackhawks rewarded Delia's efforts in early February with a new three-year contract extension and he would return to Rockford to finish second in the AHL with a .922 save percentage and ninth with a 2.48 goals-against average.
Kevin Lankinen
Adjusting to the North-American style of hockey (let alone North American overall) can prove to be a tough task for most people, but there never was an hour where Kevin Lankinen didn't have a smile on his face and an eagerness backstop his teammates.
Coming off a stellar three-year career in Finland (1.33 GAA, .940 save percentage his final season), Lankinen joined the Blackhawks family for the first year of his entry-level contract and was pressed into action immediately, earning the Opening Night start for the IceHogs on October 5 at Cleveland.
Behind Forsberg and Delia, Lankinen fell just shy of the 1,440-minute minimum for league rankings (1,151), but would place 11 in the AHL with a 2.50 goals-against average and tied for 17 with a .910 save percentage. During his busiest stretch, he went 5-1-0 from late January into the middle of February.