IceHogs GM Mark Bernard to Match Fans' Donations for Annual Bernie's Bears Drive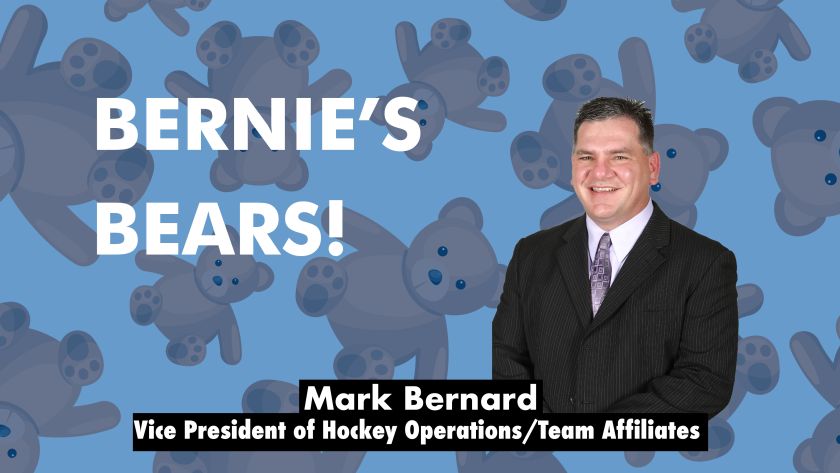 Rockford, Ill. – The Rockford IceHogs today announced that Chicago Blackhawks Vice President, Hockey Operations/Team Affiliates and IceHogs General Manager, Mark Bernard, will again lead the "Bernie's Bears" initiative in support of local charities during the month of December.
Mark and his wife, Julie, will donate a stuffed teddy bear to charity for each goal the IceHogs scored during the team's 12 games in November. The Hogs capped the month with 42 goals through their 12 games.
"Julie and I are once again thrilled to donate to the Teddy Bear Toss for each IceHogs goal leading up to the game," said Bernard. "The city of Rockford and the community have always been outstanding and this is a small way for us to give back as a family. We would also like to challenge any local businesses or families to jump on board and match the donation to make this the biggest Teddy Bear Toss in IceHogs history. The Chicago Blackhawks have already decided to match the donation, and we are looking forward to adding many other partners."
Any fan, company or organization interested in matching or participating in the Bernie's Bears donation should contact the IceHogs front office at [email protected] or (815) 986-6465. Those who participate in this year's Bernie's Bears donation drive will receive recognition on the BMO Harris Bank Center video board during the IceHogs' Teddy Bear Toss game on Dec. 7.
Fans are also encouraged to participate in the single-game stuffed-animal drive during the Teddy Bear Toss game this Saturday, Dec. 7. Those interested in participating can bring a new or gently used stuffed animal to the game against Milwaukee, and after the IceHogs score their first goal against the Admirals, can throw the stuffed animal onto the ice. The stuffed animals will then be collected and later donated to local hospitals and charities.
PLEASE NOTE: If the IceHogs do not score a goal through the first two periods of Saturday's game, fans will be invited to toss their stuffed animals onto the ice during second intermission after chuck-a-puck.
In addition, fans can also donate money at Fan Zone on the concourse during IceHogs home games for the Bernie's Bears drive. The IceHogs will purchase stuffed animals with the funds to include with the final teddy bear deliveries.
Last season, the IceHogs and their generous fan base donated more than 3,700 bears for charity. To date, the IceHogs have accumulated roughly 39,000 teddy bears for local charities.