ICEHOGS FALL IN GAME 2 OF DIVISION SEMIFINALS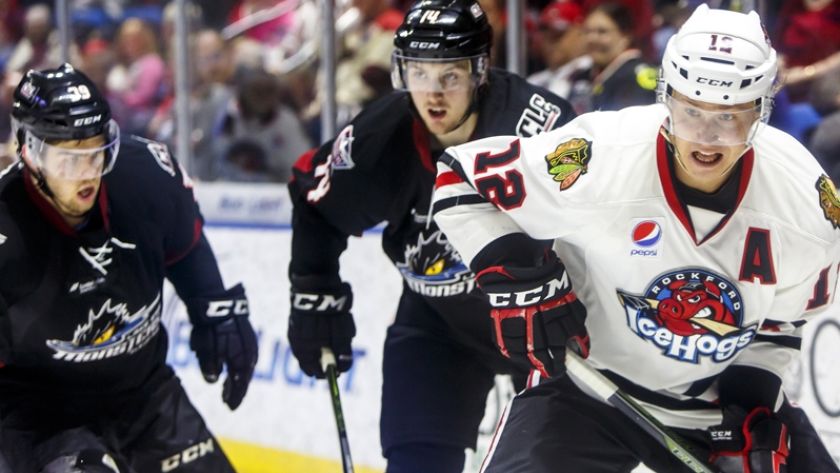 Rockford, Ill.- The Rockford IceHogs (0-2) dropped Game Two of the Central Division Semifinals, 5-1, against the Lake Erie Monsters (2-0) on Thursday night.

Josh Anderson recorded a hat trick en route to the Monsters second victory of the series.

Rockford opened the scoring just over five minutes in to the first period of the contest. Midway through the IceHogs power play, Ryan Hartman fired a big drive from outside the right faceoff circle that hit Joonas Korpialo's right shoulder, then bounced off a Monsters defender before hitting the back of the net.

Lake Erie wasted no time evening the score in the second period. A mere 34 seconds in, the Monsters sent a flurry of shots at Mac Carruth causing a large commotion in front of the net. Despite Cameron Schilling's best efforts, Anderson won the battle when he whacked the puck past the Rockford netminder.

A few minutes later, the Monsters dominated the IceHogs net, notching two goals within 20 seconds; Oliver Bjorkstrand and Justin Falk teamed up for the second of the night, as Bjorkstrand redirected Falk's shot from the slot.

The Monsters third goal came from Lukas Sedlak who fired the puck from the far left side, and it skipped through traffic in front of Carruth before settling in the back of the cage.

Anderson scored his second goal of the night with just under five minutes remaining, and put the nail in the coffin on an empty-netter at 19:24.

Carruth saved 34 of 38 shots, while Korpisalo stopped 24 of 25 pucks sent his way en route to Lake Erie's 5-1 victory.

The remainder of the Central Division Semifinals will take place in Cleveland; Game 3 will be played on Saturday at 6 p.m. If necessary, Game 4 and 5 will be on Monday and Thurssday at 6 p.m. In order to get to the fourth game, Rockford must win on Saturday.

Next Game: Saturday, April 23 vs. Lake Erie Monsters. The IceHogs head to Lake Erie to play their first road game of the Central Division Semifinals against the Monsters. Rockford went 0-3-1-0 in Cleveland during the regular season.