ICEHOGS FALL BACK IN MUDDIED PLAYOFF PICTURE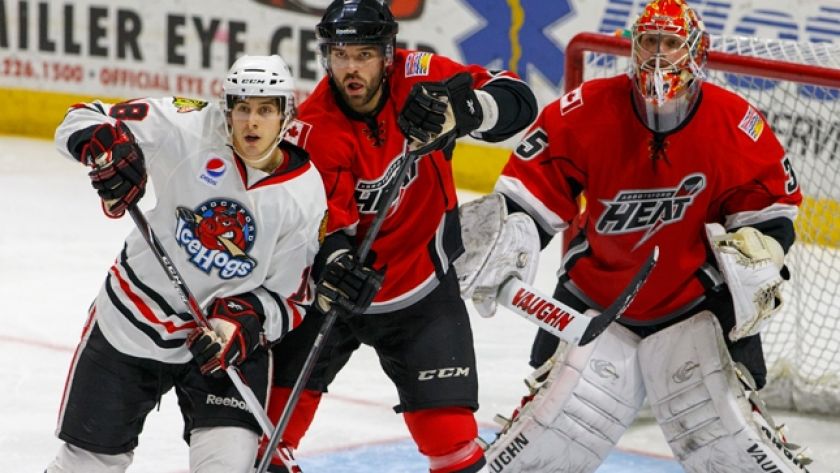 Two loss weekend puts Rockford in race for 8th

Week 27 Recap:
Looking to secure their position in the playoff race, the Rockford IceHogs headed to the west coast to take on the Abbotsford Heat on Friday and Saturday. The IceHogs dominated game one on Friday, getting 48 shots on goal and controlling the puck throughout. The Heat took advantage of each opportunity, however, and took a 6-3 win to start the weekend. Rockford fell behind early in game two and couldn't complete the rally, falling 5-3 to Abbotsford to end the weekend.

Week 26 Results
Friday, Apr. 4: Rockford 3 at Abbotsford 6
Saturday, Apr. 5: Rockford 3 at Abbotsford 5

Week 27 Schedule
Tuesday, Apr. 8, at Milwaukee, 7 p.m.
Friday, Apr. 11, vs. Milwaukee, 7 p.m.
Saturday, Apr. 12, vs. Iowa, 7 p.m.
Sunday, Apr. 13, at Chicago, 3 p.m.

Bacon Bits:
-Defenseman Adam Clendening scored his 12th goal of the season on Saturday in Abbotsford, setting an IceHogs single-season record for most goals by a defenseman
-Clendening now has 12g-44a-56pts, ranking second in the league for points, fifth in goals and second for assists by a d-man
-Rookie defenseman Stephen Johns scored his first career goal on Saturday after making his pro debut on Friday
-Rookie winger Ryan Hartman tallied his first two career points on Saturday, marking a pair of assists
-Forward Pierre-Marc Bouchard appeared in his 700th career game on Saturday
-Despite outshooting the Abbotsford Heat 74-39 over the weekend, Rockford dropped both games while getting outscored 11-6
-The IceHogs registered a season high 48 shots on goal on Friday while yielding a season low 19 in the 6-3 loss to Abbotsford
-Entering Week 28, Rockford has the second best home winning percentage (.691) in the Western Conference, but second worst road record (.389)
-The IceHogs have a goal differential of +18 on home ice but -42 on the road, the worst in the AHL
-Rockford has dropped a season low eight straight on the road (0-6-1-1) dating back to 2/28/14
-During the eight game slump, Rockford has been outscored 45-23, have not given up less than four goals in a road contest since a 4-1 win in Iowa on 2/25/14, and are allowing 5.63 per road game during the cold spell

Hot Hog: Week 27
Defenseman Adam Clendening
Defenseman Adam Clendening notched goals in both games over the weekend for Rockford, setting an IceHogs single season record for most goals by a defenseman with 12. On the season, Clendening now has 12g-44a-56pts with a +8 plus/minus rating. The second-year d-man leads Rockford in points and assists and his overall point total is good enough for second among all AHL blueliners. Clendening's 12 goals are fifth most in the league, while the 44 assists are second most.

Upcoming Games: Week 28
Tuesday, Apr. 8 at Milwaukee Admirals at 7 p.m.: Puck drop is set for 7 p.m. The IceHogs head to the BMO Harris Bradley Center for the final time this season in the penultimate matchup against their border rival, the Admirals.

Friday, Apr. 11 vs. Milwaukee Admirals at 7 p.m.: Game time is 7 p.m. The head-to-head series between Rockford and Milwaukee ends on Friday as the IceHogs host the Admirals at the BMO Harris Bank Center. Also, Goodwill will be collecting donations at Friday's game and every fan that donates will receive one (1) free voucher to Rockford's April 18th game.

Saturday, Apr. 12 vs. Iowa Wild at 7 p.m.: Opening face off is at 7 p.m. One more season series comes to an end as the Iowa Wild come to town for the final matchup between these teams this season. The first 2,500 fans to the BMO will receive an Andrew Shaw bobblehead courtesy of Vienna Beef.

Sunday, Apr. 13 at Chicago Wolves at 3 p.m.: The game starts early, at 3 p.m. Rockford makes the short trip to the Allstate Arena one last time this season to face the Wolves in the Illinois Lottery Cup series.

Illinois Lottery Cup Series Standings
Teams Record Points
Rockford 5-3-0-2 12
Chicago 5-4-0-1 11

Upcoming Illinois Lottery Cup Games:
Apr. 13: Rockford at Chicago, 3 p.m.
Apr. 18: Chicago vs. Rockford, 7 p.m.