ICEHOGS DROP SECOND STRAIGHT AGAINST MONSTERS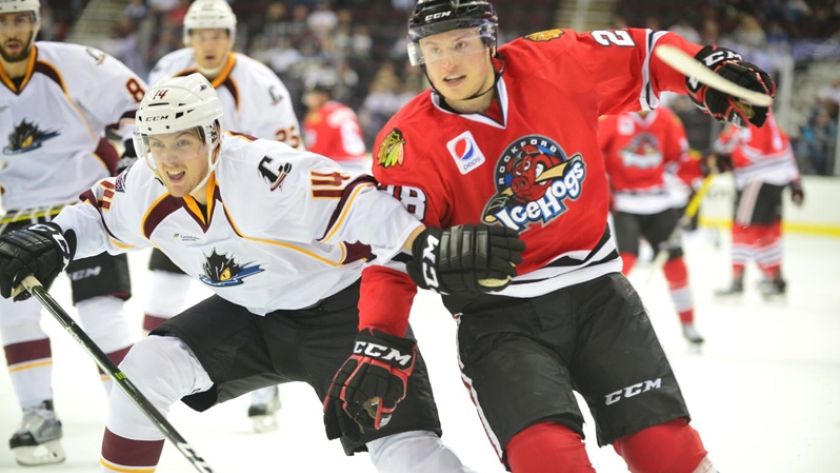 Cleveland, Ohio – A fast start for the Cleveland Monsters saw the team jump out to an early lead that they did not relinquish, as the Rockford IceHogs fell by a 3-1 score on Saturday night at the Quicken Loans Arena.
Despite a late goal to close out the middle stanza, Rockford was not able to draw any closer before falling to the Monsters as Cleveland made their early lead stand up for the length of the contest.
The Monsters took control of the contest with a goal just 46 seconds after the puck dropped on the opening frame. Alex Broadhurst dished a pass from the left side of the slot towards T.J. Tynan. The pass deflected back to Aaron Palushaj and he made a quick move to his backhand and flipped the puck into the net to give the Monsters a 1-0 lead.
Despite outshooting Cleveland 11-7 in the frame, Rockford was not able to solve goaltender Anton Forsberg.
The second frame saw Tynan capitalize on a shorthanded breakaway to double the Cleveland lead. Frank Hora lofted the puck high in the air through the neutral zone, and Tynan won the race to the puck before quickly snapping a shot past Mac Carruth at 6:20 in the period.
Nick Moutrey added to the advantage at 15:00. Jordan Maletta left the penalty box following a double minor penalty and completed a give-and-go with Moutrey, who finshed the play with a one-timer into the top left corner of the net.
The IceHogs picked up a shorthanded goal of their own late in the second frame. Jeremy Langlois won a puck battle in the right corner, skated along the goal line, and flipped a backhand shot over the shoulder of Forsberg from a sharp angle. The goal was scored with 1:33 left on the clock as the IceHogs trailed 3-1 going into the third.
Neither side was able to tally in the final frame, as Cleveland collected the victory as both sides tallied a shorthanded goal in the contest. Carruth ended the game with 19 stops on 22 shots, and Forsberg earned his second win of the season while stopping 26 of 27 opportunites.
Home Opener: Saturday, Oct. 22 vs. Milwaukee at 7 p.m. The IceHogs open their 18th season of professional hockey at the BMO Harris Bank Center with the first home game of the 2016-17 season. The first 5,000 fans to enter the arena will receive an IceHogs calendar compliments of BMO Harris Bank. For tickets visit IceHogs.com or call (815) 968-5222.