ICEHOGS DEFEAT MONSTERS ON KIDS DAY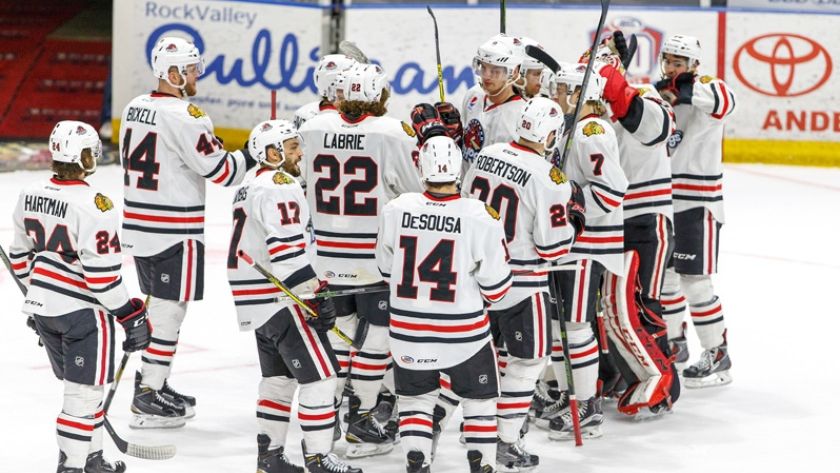 Rockford, Ill.- The Rockford IceHogs (24-10-2-3) sent the Lake Erie Monsters (20-14-3-3) back to Cleveland with a 3-1 loss on Martin Luther King, Jr. Day.

The day game started off with a bang, as Garret Ross and the Monsters Trent Vogulhuber dropped the gloves at center ice only 14 seconds in to the game.

With four minutes left in the first period, the IceHogs sent a flurry of shots at goaltender Anton Forsberg. The Monsters offense and defense stood their ground to defend their netminder, keeping the game scoreless.

Rockford was unable to get any more solid chances until one minute into the second period. Vince Hinostroza and Garret Ross set up Tanner Kero for the potential first goal of the game, delivering a puck to Forsberg's opposite side. However, Kero was unable to get enough stick on the puck for a solid shot.

Vince Hinostroza broke the deadlock at 8:53 after taking a pass from Viktor Svedberg. Marko Dano moved the puck to Svedberg from the right faceoff circle, who found Hinostroza in front of the net to give the IceHogs the 1-0 lead.

Defenseman Kirill Gotovets scored his first goal of the season with only a minute left to play in the second period. During four-on-four play, Gotovets made a move in to the faceoff circle and snapped a shot that went top shelf over Forsberg's left shoulder.

In the third period, the Monsters were determined to make a comeback. Oliver Bjorkstrand took a pass from Alex Broadhurst, and drove the puck down the right wing side, snapping a shot past Michael Leighton at 12:46. Bjorkstrand's goal broke Leighton's 129:48 shutout streak, dating back to Tues., Jan. 12 against the Chicago Wolves.

With less than a minute left in regulation, Bryan Bickell scored an empty-net goal to solidify the MLK Day win for the home team.
Leighton finished the contest with 26 saves, earning second star honors, while Forsberg stopped 23 of 25.

Next Home Game: Friday, Jan. 22 vs. Iowa Wild at 7 p.m. The IceHogs face the Wild for the first of two games in a weekend series. The first 2,500 fans will receive a fleece blanket courtesy of OSF.