ICEHOGS CATCH ROADRUNNERS WITH COMEBACK, FALL IN OT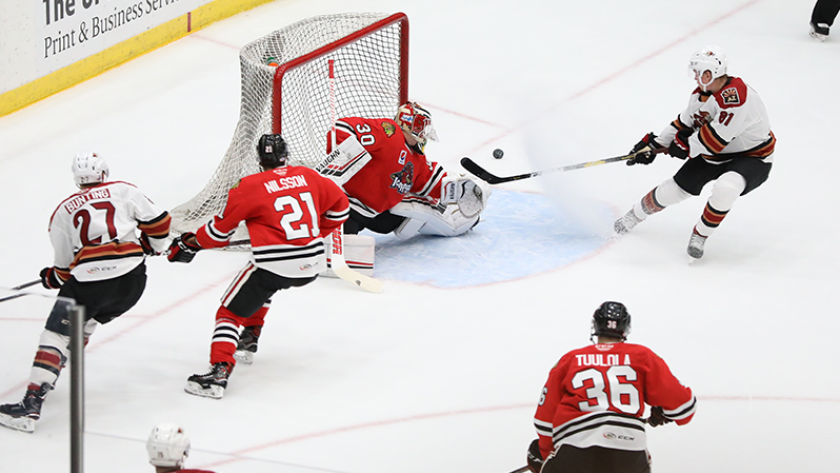 TUCSON, Ariz. - Jordan Schroeder capped off a furious three-goal IceHogs comeback late in the third period and helped Rockford extend its point streak to three, but Tucson's Conor Garland scored in the waning moments of overtime and lifted the Roadrunners to a 4-3 victory over the Hogs Friday night at Tucson Convention Center.
After the IceHogs fell into an early three-goal hole, Tyler Sikura began to turn the tide when he beat Roadrunners goaltender Aden Hill through the five-hole with 9:14 remaining in the second period.
Heading into the third stanza trailing by two tallies, the IceHogs continued to chip away at their deficit. Anthony Louis scored on the power play, again through Hill's five-hole, to put Rockford within striking distance. Then Schroeder evened the slate on an unassisted shot from in tight with just 4:13 remaining in regulation, and the game would go to overtime.
IceHogs goaltender Kevin Lankinen stymied several dangerous opportunities in the extra session. But with just 27 seconds remaining, Garland converted on an odd-man rush and clinched a Roadrunners victory.
Michael Bunting began the Roadrunners' hot start with a power-play goal from the point at the 10:22 mark of the first period. Tucson appeared to have bolsterded its lead just before the conclusion of the frame, but the goal was waived off as time had expired prior to the puck crossing the goal line.
The Roadrunners ultimately managed to pad their lead with second-period goals from Adam Helewka and Trevor Cheek, giving Tucson the 3-0 advantage they needed to offset the Rockford comeback effort and claim the game in overtime.
The IceHogs will get the chance to continue their point streak and exact revenge with another matchup against the Roadrunners Saturday Night at Tucson Convention Center.
NEXT HOME GAME: Wednesday, Oct. 24 vs. San Antonio Rampage | 7 p.m.
The Rockford IceHogs will host the San Antonio Rampage for the first time this season Wednesday, Oct. 24 at the BMO Harris Bank Center. The contest is the first "Wednesday Dog Day" of the 2018-19 season, in which fans are invited to bring their dog to the game for an additional $2. Hot dogs will also be available for the discounted price of just $2 during Wednesday's contest.