ICEHOGS AT THE UNITED CENTER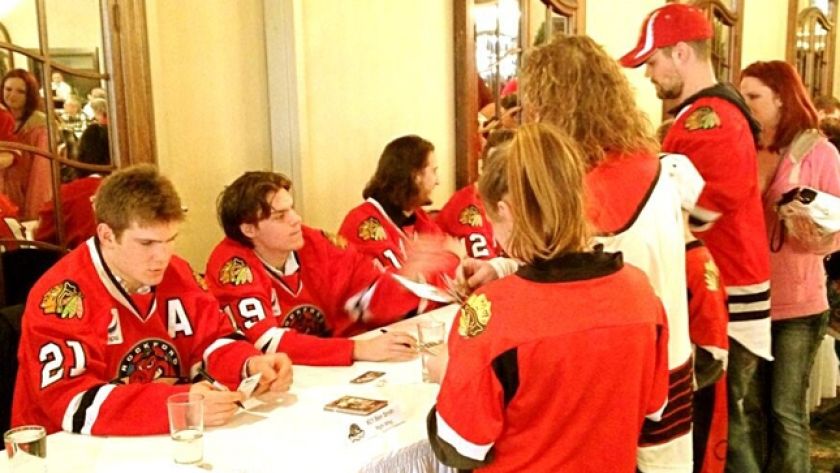 Rockford, Ill. – As the Chicago Blackhawks host the St. Louis Blues tonight at the United Center, future Blackhawks stars and members of the Rockford IceHogs will be in attendance to meet with fans.

The whole IceHogs team will be making the trip to Chicago tonight to catch the game, beginning at 7 p.m. The club will also be featured in a special meet and greet session (pregame, first intermission and second intermission) on the concourse of each level at the U.C. outside sections 119, 233 and 315.

There will also be a special IceHogs poster for all fans to get autographed as they stop by the IceHogs table.

The players will be split into three separate groups. The following is a list of where each group will be signing autographs throughout the night:

Group A (Pregame: section 315, First intermission: section 233, Second intermission: section 119)
Drew LeBlanc
Brad Mills
Phillip Danault
Pat Mullane
Adam Clendening
Jared Nightingale
Bobby Shea
Jason LaBarbera

Group B (Pregame: 233, First intermission: 119, Second intermission: 315)
Jeremy Morin
Alex Broadhurst
Garret Ross
Philippe Lefebvre
Terry Broadhurst
Mathieu Brisebois
Klas Dahlbeck
Brian Connelly

Group C (Pregame: 119, First intermission: 315, Second intermission: 233)
Brandon Mashinter
Wade Brookbank
Joakim Nordstrom
Mark McNeill
Pierre-Marc Bouchard
Brett Skinner
Theo Peckham
Kent Simpson

Next Home Game: Saturday, March 22 vs. Chicago Wolves. Puck drop is 7 p.m. It is country night with the IceHogs and the first 1,500 fans through the gate will receive a cowboy hat courtesy of Frito Lay. Gunnar and the Grizzly Boys will be performing live at the game.