ICEHOGS ANNOUNCE 2018-19 REGULAR SEASON SCHEDULE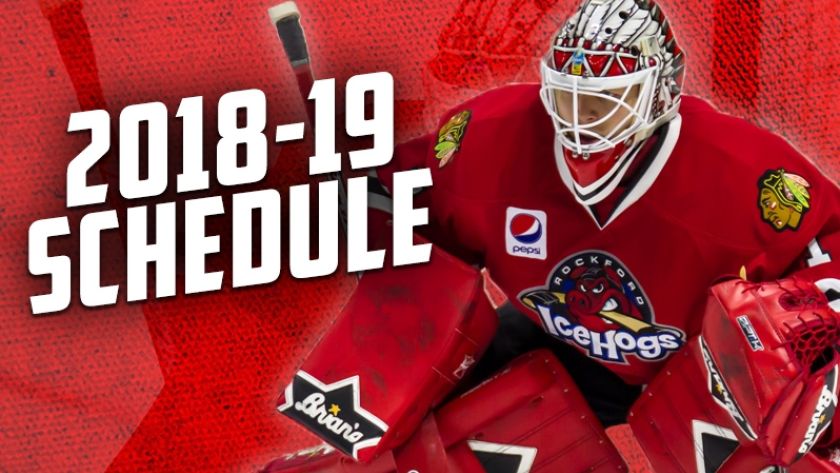 ROCKFORD, Ill. -- The Rockford IceHogs, in conjunction with the American Hockey League, have announced their regular season schedule for the upcoming 2018-19 hockey season.
The IceHogs begin their 20th season of professional hockey and 12th as the primary AHL affiliate of the Chicago Blackhawks with back-to-back road games at the Cleveland Monsters on Friday, Oct. 5 at 6 p.m. and Saturday, Oct. 6 at noon.
The Hogs then return to Rockford the following weekend for back-to-back home games, beginning with the 2018-19 home opener against playoff rival, the Texas Stars, on Oct. 13 at 6 p.m. at the BMO Harris Bank Center. The IceHogs will cap their home-opening weekend with a Sunday matinee game against the Hershey Bears on Oct. 14 at 4 p.m.
Overall, Rockford will host 38 home games during the upcoming campaign. The full schedule of home contests is highlighted by 29 weekend games, including seven games on Friday, 13 on Saturday and nine on Sunday, and also features nine weekday games, with two scheduled on Tuesday and seven set for Wednesday.
The 2018-19 schedule will also feature the IceHogs' first-ever matchup against the Tucson Roadrunners, with road games against the team scheduled for Oct. 19 and 20 and home contests set for Feb. 8 and 9. In addition, Rockford will battle teams from the AHL's Eastern Conference eight times next season, marking the most matchups against the Eastern Conference in team history.
All individual-game tickets for the upcoming 2018-19 season will go on sale in September.
Unless otherwise noted, all Tuesday, Wednesday and Friday games will begin at 7 p.m. Saturday games will again feature a 6 p.m. puck drop in 2018-19, while Sunday contests will begin at 4 p.m. The Hogs are also scheduled to host their annual school-day, matinee game at 10:30 a.m. on Wednesday, Nov. 7 against the Iowa Wild.
Ticket packages, including full and partial-season plans, along with group tickets can be purchased NOW by calling (815) 968-5222.
The IceHogs will also announce a promotional calendar at a later date this offseason.
Season Tickets for 2018-19 on Sale Now:
Don't miss a moment of the action by reserving your seats for the IceHogs' 20th season of professional hockey in Rockford and 12th as the top AHL affiliate of the Chicago Blackhawks. The IceHogs' home opener is set for Oct. 13 and ticket packages begin as low as $105 for a seven-game mini pack. Please contact us at (815) 847-6399 or visit icehogs.com to claim your spots for this upcoming season.