ICEHOGS ANNOUNCE 2016-17 REGULAR SEASON SCHEDULE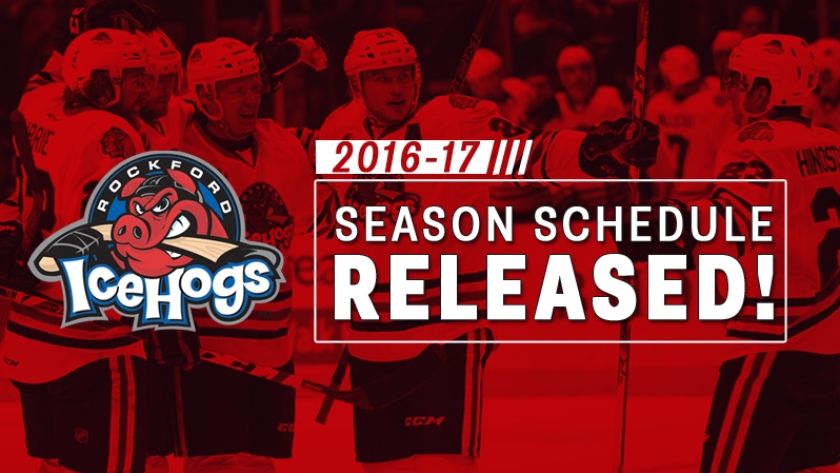 Rockford, Ill. - The Rockford IceHogs, in conjunction with the American Hockey League, announced the club's 2016-17 regular season schedule.

The IceHogs begin their 18th season of professional hockey in the Forest City, including 10th in the AHL as the primary affiliate of the Chicago Blackhawks, when they visit the defending Calder Cup Champion Cleveland Monsters at Quicken Loans Arena on Friday, Oct. 14 at 6 p.m.

Rockford begins their home slate the following weekend with the home opener against the Milwaukee Admirals on Saturday, Oct. 22 at 7 p.m. at the BMO Harris Bank Center.

All individual game tickets go on sale on Thursday, Sept. 14 at 10 a.m.

Add to calendar

The IceHogs will play 38 games on home ice at the BMO Harris Bank Center during the 2016-17 campaign. The home schedule is split up between one Monday game, three Tuesday games, seven contests on Wednesday, nine Friday tilts, 13 Saturday games, and five Sunday matinees. A total of 27 of the team's 38 home games will be played on either Friday, Saturday, or Sunday.

Unless noted, all home games will be played at 7 p.m., excluding Sunday outings which are set for 4 p.m. Rockford will play two home matinees in 2016-17 including Monday, Jan. 16 (1 p.m. vs. Grand Rapids) and the annual School Day Game on Wednesday, Feb. 15 (10:30 a.m. vs. Cleveland).

The IceHogs will announce a promotional calendar at a later date. Ticket packages, including full season and partial season ticket plans, along with group tickets can be purchased now by calling 815-847-6399.