IceHogs and BMO Unveil Multi-Year Partnership Extension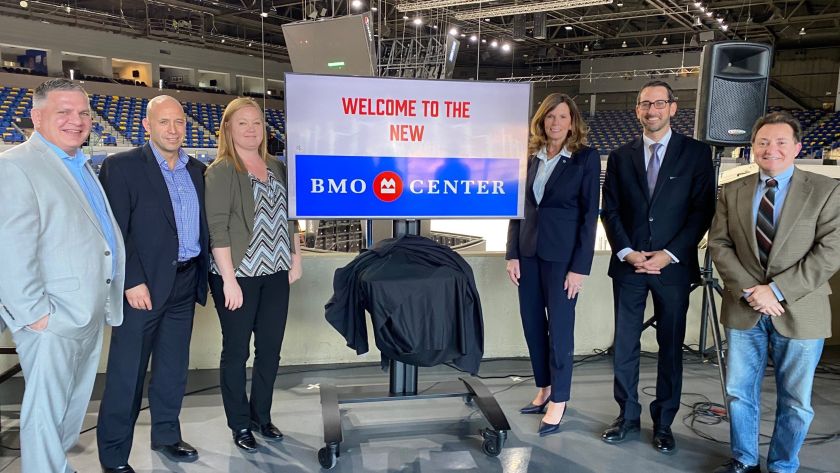 The Rockford IceHogs, the BMO Center and BMO today announced a new multi-year partnership for the downtown Rockford arena at a press conference, unveiling a new arena name, the BMO Center, and new renovations.
The announcement featured remarks from the Mayor of Rockford Tom McNamara, Rockford IceHogs President of Business Operations Ryan Snider, BMO Managing Director, Private Wealth Advisor Kathy Weber, and BMO Center General Manager Gretchen Gilmore.
A partner since 2011, BMO, BMO Center, and the Rockford IceHogs' new nine-year agreement highlights many of the investments, enhanced features, and improvements in the arena. BMO has proudly invested more in the arena than any other privately-operated partner in the 41-year history of the building.
"This partnership with the IceHogs started in 2011, and we're happy to see it continue for another nine years," said Kathy Weber. "We're pleased to work with these great organizations and leaders to help make progress in the Rockford community. Our sponsorship of the BMO Center goes further than brand exposure. It creates a connection in the Rockford community. You are our neighbors, our friends, and our coworkers."
Among the many arena enhancements inside the arena are the BMO Suite Level, refreshed premium seating in the Club Boxes, Club Lounge, renovated Oink Outfitters team store, restrooms, Wi-Fi, auxiliary and star locker rooms, updated arena and concourse lighting, and an all-new, center-hung scoreboard and ribbon board that merges a traditional high-definition display with elements of modern technology and fan interaction.
"These renovations are really going to be instrumental for us as we move forward with modern technology to entertain fans," said Ryan Snider. "Some of the amenities you see coming into place between the enhanced video board, some of the LED screens, and free public Wi-Fi that really are a staple for entertaining in a venue like this. We're really excited to launch them finally; it's been two years in the works to get to this point but super excited to debut them on Saturday."
"We've got a lot of new interest in promoters who have never been here before as well, so these renovations are establishing long term partnerships, the Chicago Blackhawks are here long term as well, so these renovations mean a lot to us," said Gretchen Gilmore.
Fans in every seat around BMO Center will experience better and greater visibility of every IceHogs goal, hit, and can't-miss moment. The new upper and lower ring displays provide additional video to fans closest to the ice, and the increased panel size and image clarity will enhance the view.
This partnership will also highlight BMO's EMpower Initiative with the IceHogs highlighting minority-owned small businesses in the Rockford area throughout the season as the BMO Business of the Month.
"It didn't seem that long ago that we all gathered, and we had Gov Pritzker here and made a big announcement of more than $20 million will be reinvested into this phenomenal facility. Not just that reinvestment into the facility, but we brought along new partners, and we are fortunate to bring the Blackhawks into our Rockford family; I think as you have the opportunity to hear about all the specific renovations, I think you will see that this is going to be so much better for our fans and also those who are visiting our community to see world famous entertainment," said Mayor Tom McNamara.
Join the IceHogs' Opening Act with Hard Rock Casino-Rockford on Oct. 22!
The IceHogs celebrate Opening Night at the BMO on Saturday, Oct. 22 vs. Chicago Wolves at 7 p.m. Start the celebration with the IceHogs and the Hard Rock Casino – Rockford for The IceHogs Opening Act with a block party from 4:30-6:30 p.m. outside the BMO featuring Rockford band, Miles Nielsen and the Rusted Hearts.
Buy Opening Night & Opening Act Tickets Here!
The IceHogs and Hard Rock Casino – Rockford are also teaming up on an exclusive Hard Rock Hammy t-shirt giveaway. Fans attending the block party will have the first chance to get a shirt with the remaining shirts available to fans upon entry to the BMO Harris Bank Center.
Food trucks from Olivo Tacos, 15th and Chris, TNT Funnel Cakes, Inzombia coffee and more will fuel fans for the Opening Act and fans can participate in exciting pregame events like axe throwing, street hockey provided by the Chicago Blackhawks, giant Jenga, giant Connect Four, bags/cornhole and more! The block party will occur at Elm and Main St. intersection, outside the BMO Harris Bank Center Box Office.
Be Close to the FUN with an IceHogs Group Ticket Package!
Group ticket packages are on sale now! Experience the excitement of IceHogs hockey with a group of 10 or more family and friends! From skating on the ice before the game, watching pregame warmups from the bench, performing during the game, or high-fiving the IceHogs as they take the ice, an IceHogs Group Ticket Package brings you closer to the FUN! Reserve your group experience all season at IceHogs.com!
Season Ticket Memberships for 2022-23 are on Sale Now!
Don't miss a moment of the action next season! Reserve your seats for the IceHogs' 16th season as the top AHL affiliate of the Chicago Blackhawks. Celebrate Opening Night on Saturday, Oct. 22 at 7 p.m. at BMO Harris Bank Center against the Chicago Wolves! Contact us at (815) 847-6399, at icehogs@blackhawks.com, or visit IceHogs.com to claim your seats for this upcoming season.