ICEHOGS ALUMNI SET TO PLAY ON WORLD STAGE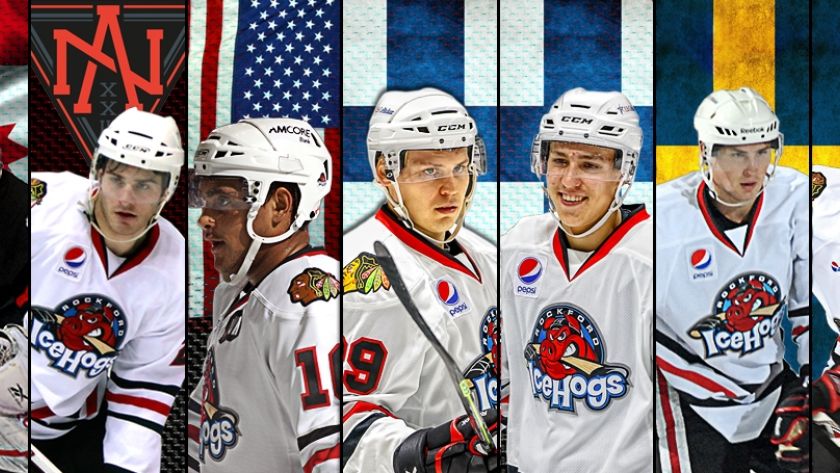 Rockford, Ill. – When the 2016 World Cup of Hockey kicks off in Toronto later this week, it will feature over 150 of the best players in the NHL, including seven players with ties to the Rockford IceHogs of the American Hockey League.
The two week tournament runs Sept. 17 through Oct.1, 2016, with eight teams made up of a 23-man roster. Those teams include Team Canada, Team Czech Republic, Team Finland, Team Russia, Team Sweden, Team USA, Team Europe, and Team North America.
Former IceHogs goaltender Corey Crawford spent time in Rockford in 2007-10 before moving on to the NHL with the Blackhawks. Crawford is the IceHogs all-time leader in games played by a goaltender (147), minutes (8,235), saves (3,790) and wins (75). He will represent Team Canada in the Tournament and will open play against Team Czech Republic in the Preliminary Round on Sept.17.
Left Wing Brandon Saad of the Columbus Blue Jackets and Center Marcus Kruger of the Blackhawks, both part of the IceHogs 2012-13 season, will join Team North America and Team Sweden, respectively. Forward Teuvo Teravainen, who spent part of the 2013-15 seasons with the IceHogs, and Rockford's best defenseman in 2015-16, Ville Pokka, will represent Finland.
A pair of former IceHogs defensemen will also be featured in the tournament. Dustin Byfuglien (USA) and Niklas Hjalmarsson (Sweden) each spent parts of the 2007-08 season in Rockford. Hjalmarsson split part of the 2008-09 season in Rockford and Chicago.
The eight teams will be divided into two groups, Group A and Group B, and play their three Group opponents in a round-robin format in the Preliminary Round (Sept. 17-22). Border rivals Team Canada and Team USA will face off on Tuesday, Sept. 20.
Teams Canada, Czech Republic, Europe, and USA belong to Group A, and Teams Finland, North America, Russia, and Sweden, make up Group B.
Following the Preliminary Round, the Semifinals will be held Sept. 24-25 with the Final best-of-three series taking place Sept.27, Sept.29, and Oct.1, if necessary.
Live coverage of the tournament will be provided by Sportsnet, TVA Sports, and ESPN.
2016-17 Individual Game Tickets On Sale Now: IceHogs tickets for the 2016-17 regular season are now available. To get tickets visit the BMO Harris Bank Center Box Office, go to IceHogs,com or call 815-968-5222. The 2016-17 promotional schedule is available here.