ICEHOGS 2018-19 SEASON PREVIEW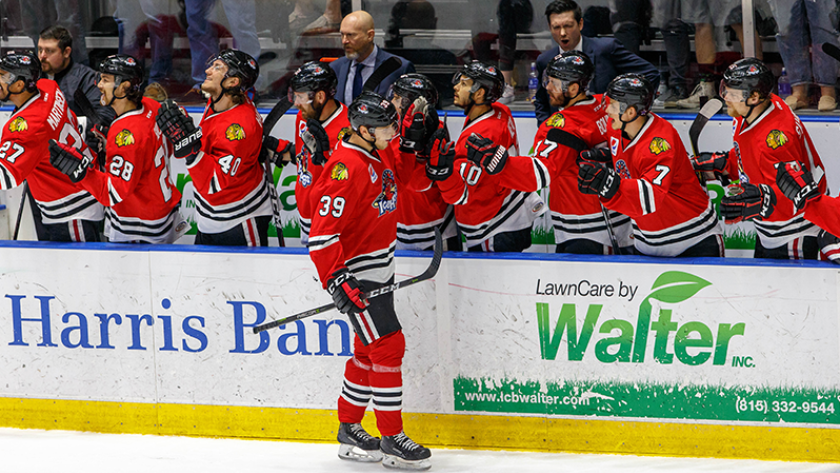 The Rockford IceHogs' most successful AHL season was a rollercoaster ride to the very end.
Reaching the AHL Western Conference Finals for the first time in franchise history, the 2017-18 IceHogs fell short of their ultimate goal when the team was eliminated by the Texas Stars in six games.
That doesn't mean it was negative experience.
"We had a lot of fun [in the postseason]," Rockford Head Coach Jeremy Colliton said. "That's the kind of environment you want to be in and the kind of games you want to play in. We got a taste of how enjoyable it is to go to battle in the spring time and so we want to get back there again.
"What I like about this group is we have some returning players who hopefully learned something about what it takes to have success in this league. We're looking to pick up where we left off."
This year, the IceHogs will look to build off their historic 2017-18 run with a combination of established talents and new faces, who hope to bring even more success to Rockford.
FORWARDS
The IceHogs forwards are following up a very solid year offensively. Rockford led the AHL in shots on goal and finished seventh in total scoring.
Anthony Louis, last season's team leader in points, returns to the Rockford forward ranks. Louis skated in all but four IceHogs regular season contests and tallied 44 points, the 11th most by any AHL rookie. With a full professional season now under his belt, the 23-year-old forward is ready to take on more of a leadership role.
"I'm just going to try to lead by example," Louis said. "I'm not much of a talker but just leading by example, going out and working 110 percent every day, [shows] the newer guys what you need to do because [if] you take a day off, you take a step back."
Matthew Highmore and Tyler Sikura, last year's second and third leading scorers, respectively, may join Louis in the Rockford leadership ranks. Highmore is coming off a season in which he set the IceHogs rookie goal-scoring record with 24 tallies. Sikura's 23 goals and 16 assists on the campaign helped earn him the Team MVP award.
Despite the returning stars, the IceHogs will have to replace the services of several key forwards such as Vinnie Hinostroza, Chris DiDomencio and Tomas Jurco, who were contributors last season.
New forwards like Terry Broadhurst, Jacob Nilsson and Jordan Schroeder will be tasked with filling these departures. Broadhurst makes his return to Rockford after skating with the IceHogs for parts of three seasons from 2011-14. The 29-year-old scored 32 points in 49 games with the Cleveland Monsters last year, including seven points in seven games against Rockford.
"We have some 'new veteran' guys coming in," Colliton said. "We'll try to get [the new guys] up to speed as quick as we can, as far as what we expect. But they've been around a little bit and played on some different teams and they'll have those experiences to bring."
DEFENSE
The Rockford defensive unit is due for a changing of the guard in 2018-19, with young up-and-comers replacing last season's veteran core.
Over the summer, the team lost its two leading scorers on the blue line, as Adam Clendening signed with the Columbus Blue Jackets and Cody Franson inked a deal with Avangard Omsk of the KHL. Viktor Svedberg, the defense's plus/minus leader, remains a free agent.
The IceHogs blue line will inevitably lean on newcomers.
Offseason acquisition Andrew Campbell, who has skated in the AHL for parts of 10 seasons and captained three different teams, could offer veteran stability. On the other end of the spectrum, rookie Dennis Gilbert, selected by the Blackhawks in the third round of the 2015 NHL Draft, strives to impress in his first professional season.
"[The opportunity] is exciting," Gilbert said. "We definitely lost a lot of big pieces so there's a lot of big shoes to fill, so hopefully some of us can step up."
Returning Rockford defensemen Carl Dahlstrom, Darren Raddysh and Luc Snuggerud, all under 24 years old, are suddenly the seasoned veterans among this young IceHogs defense. Dahlstrom and Raddysh trailed only Svedberg in games played among Rockford defensemen last season, while Snuggerud contributed 5 goals and 12 assists despite being limited by injury to just 40 games.
"I've known [Snuggered] for a while," Gilbert said. "He's been a pretty vocal guy on the back end. Same with Raddysh… And then a new addition like Campbell, obviously an older guy that's been around. All the guys who have been in the league for a while have been really good to the new guys."
GOALTENDING
The IceHogs have plenty of options in net for the upcoming season.
Collin Delia, who was in net for 10 of Rockford's 13 contests in the 2018 Calder Cup playoffs, is currently battling for a roster spot with the Blackhawks and looks to take more steps toward an NHL career. The 24-year-old recorded a 2.34 goals against average and a .924 save percentage during the IceHogs' postseason run.
However, Rockford now faces the departure of Jeff Glass, who split time with Delia during last year's regular season and playoff run.
With Delia's sights set on Chicago, and the absence of Glass, there's certainly room for several netminders to establish themselves in Rockford. Matt Tomkins and Kevin Lankinen are the top candidates.
Tomkins spent the majority of the 2017-18 season in the ECHL with the Indy Fuel, but got a taste of AHL action with eight starts in Rockford. Lankinen is coming off a year in which he boasted a 1.33 GAA and a .946 save percentage in Finland's SM-liiga.
IceHogs Developmental Goaltending Coach Peter Aubry is confident in either's ability to perform when called upon.
"I think [Lankinen] and [Tomkins] both had great summers and got ready for the situation," IceHogs developmental goaltending coach Peter Aubry said." [Lankinen], being new to the organization, probably had a lot of excitement and wanted to put his best foot forward, and he's done that.
"[Tomkins] is a returner. I'll say a 'pleasant surprise.' He's just kept pushing and pushing and he took a step this summer too. He had a real good summer, trained with some good coaches and put himself in a position to have some success this season."
OUTLOOK
Rockford opens the season on the road against the Cleveland Monsters on Friday, October 5. The new group seeks to quickly assert its identity on the opposition, regardless of which potential IceHogs fill out the opening day roster.
"What I'm looking for is to establish that work ethic and relentless mentality, "Colliton said. "We want to be hard to play against [and] dictate the pace and tempo of the games. If we do that we'll be playing games on our terms."