HOGS TEAM UP WITH KISHWAUKEE ELEMENTARY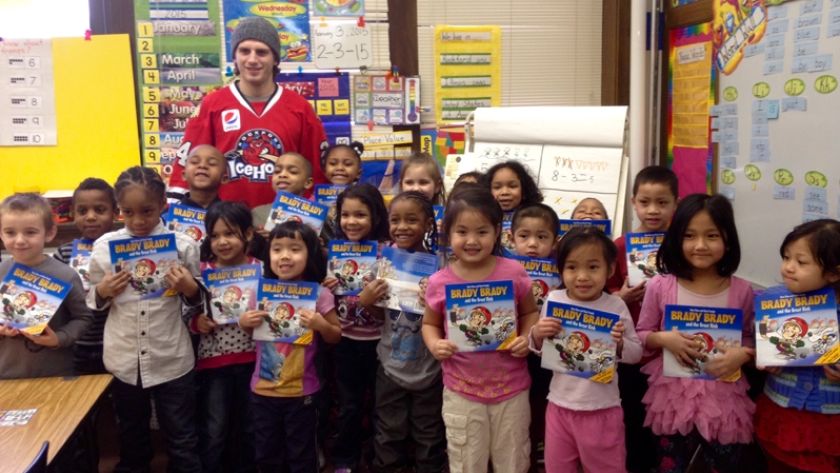 Rockford, Ill. – In partnership with the United Way of Rock River Valley and the IceHogs Charitable Foundation, the Rockford IceHogs kicked off a reading initiative with Kishwaukee Elementary School on Wednesday.

IceHogs players will visit each grade level (K-5) at Kishwaukee Elementary this month to read Brady Brady and the Great Rink by Mary Shaw and Chuck Temple – one of a dozen books in the Brady Brady series. The main character in the series of books, Brady, coincidentally plays for the fictional team "the IceHogs." Following each reading appearance from IceHogs players, each student at Kishwaukee will receive a copy of the book.

"We're very excited about our partnership with the Rockford IceHogs- anytime you can have athletes come into your school and read to students, it's a win, win!" said Amy Ekstrom, parent and Community Engagement Liaison for Rockford Public Schools. "The Brady Brady books will be a welcome addition to the students home libraries!"

IceHogs forward Ryan Hartman helped kick off the initiative and spent the afternoon reading to Kishwaukee's kindergarten classrooms and followed up by giving the books to more than 40 students. IceHogs players will make three more trips out to Kishwaukee Elementary during the months of February and March, to continue the initiative of reading in classrooms and participate in their Dr. Seuss Café in the beginning of March.

Schedule of Appearances:
Feb. 11 – TJ Brennan & Alex Broadhurst
Feb. 24 & 25 – TBD
For more information on the Brady Brady series, visit BradyBrady.com.