Hogs Tame The Wolf Pack With 3-2 Win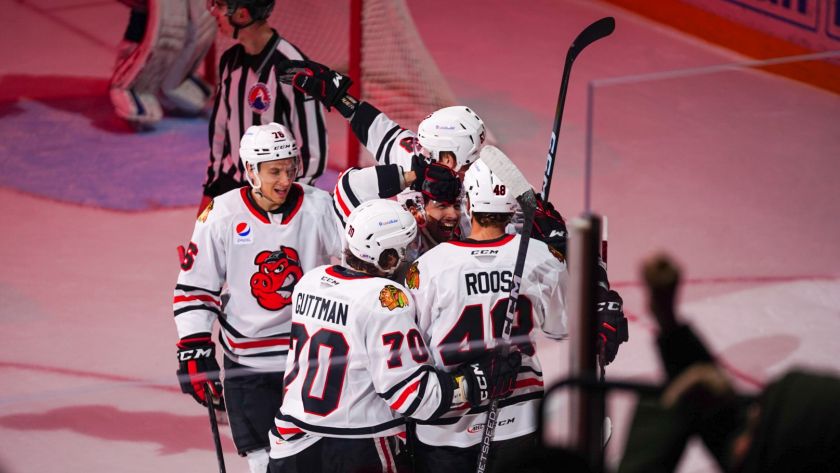 Rockford, Ill. — Scoring all three goals in the second frame, the Rockford IceHogs clawed their way to a 3-2 win over the Hartford Wolf Pack on Saturday night, snapping Hartford's three game win streak. Forward Michal Teply marked his fourth multipoint night to lead Rockford to a two-game season sweep of the Wolf Pack.
Hartford defenseman Matthew Robertson jumped on a loose puck from a faceoff and fired a wrister from the high slot over the head of IceHogs goalie Dylan Wells at 17:07 to end the scoreless first period.
The IceHogs dominated the Wolf Pack despite being outshot 17-9 in the sandwich period. Catching a Tic-Tac-Toe pass from IceHogs forwards Teply and Josiah Slavin, Rockford defenseman D.J. Busdeker tied the contest 1-1 with a wrist shot behind Hartford netminder Dylan Garand at 5:36.
Going on their only power play of the night, forward Lukas Reichel pulled the attention of the Wolf Pack in the slot and shuttled a pass to a wide-open Teply in the right circle, setting up a one-timer blast and taking a 2-1 lead at 6:32.
Hartford forward Turner Elson snuck a loose puck in the crease past Wells and evened the score 2-2 at 8:53; however, IceHogs defenseman Filip Roos took back the momentum after weaving through the Wolf Pack in the slot and punching the puck over the shoulder of Garand at 19:26 to take a 3-2 lead heading into the middle intermission.
Tensions rose throughout the final stanza, but the IceHogs defense denied all of Hartford's 6-on-4, empty net attempts in the latter stages of the third period. Facing an avalanche of 40 shots throughout the night, Wells turned away 38 including a fully extended diving stop to seal Rockford's 3-2 win. Garand faced 25 shots and totaled 22 saves but was tagged with the loss.
Tune In LIVE on the IceHogs Broadcast Network Presented by BMO
Watch and listen to every game this season on the IceHogs Broadcast Network presented by BMO! Listen from your favorite device, at home, or on the road at IceHogs.com and on the IceHogs app and watch LIVE on AHLTV and selected games on 23.3 Circle TV! Fans can also tune in on all of Mid-West Family's local stations including 104.9 The X, B103, 95.3 The Bull, and Rockford Greatest Hits 100.5 and featured on Rock River Current, the Stateline's premiere source for local events, news and culture.