HOGS SPREADING HOLIDAY CHEER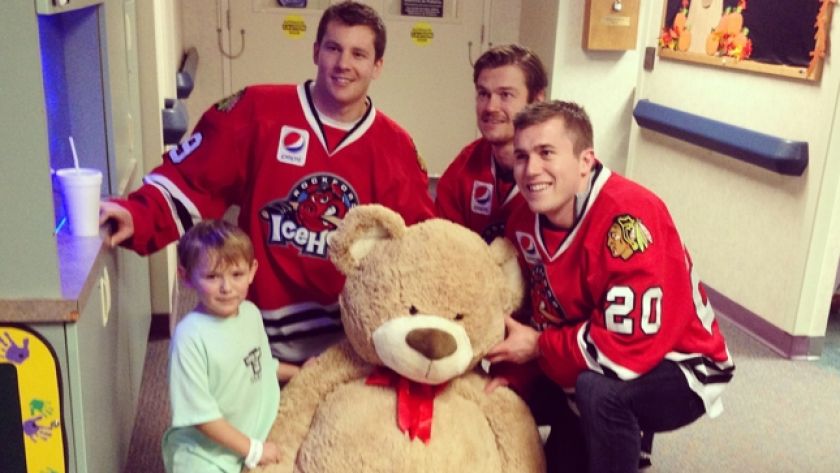 Rockford, Ill.- The IceHogs are out in the community this week handing out teddy bears, spending time with children, and celebrating birthdays.

On Tuesday, Dec. 17 the Hogs have two appearances. First, IceHogs forward Garret Ross and goaltender Allen York will be at Poplar Grove Elementary School in Poplar Grove at 2 p.m. having a pizza party with the kids and answering questions.

Then, back in Rockford, Viktor Svedberg, Theo Peckham, Joakim Nordstrom, Mark McNeill and Mac Carruth will stop by Swedish American Hospital handing out stuffed animals to the children from the Nov. 30 teddy bear toss game. The teddy bears have been, and continue to be, distributed throughout the community around the holidays.

On, Wednesday, Dec. 18 IceHogs players and staff will be around town at four different spots. First, Brad Winchester, Wade Brookbank and Phillip Danault will be at Lincoln Middle School for an Honor Roll party to congratulate the kids who have gone above and beyond this semester.

Across town at 4 p.m. Jared Nightingale, Pat Mullane and Mark McNeill will be at Flinn Middle School to take part in a question and answer session with the kids, handing out stuffed animals.

At the same time, Brandon Pirri, Max Shalunov, Terry Broadhurst and Adam Clendening will be at Children's Home and Aid handing out teddy bears to children for the holidays.

Lastly, Theo Peckham and Alex Broadhurst will be at The Community Center with Rosie's Birthday Party helping celebrate the birthdays of a few special children.

For more information on where the IceHogs will be in the community go to IceHogs.com, or click here.

If you would like to set up a player appearance for your classroom, or organization please contact the IceHogs Communications Department at 815-986-6465 or email icehogs@icehogs.com

Next Home Game: Saturday, Dec. 21 vs. Milwaukee Admirals. Puck drop is 7 p.m. when the IceHogs take on their division rivals, the Milwaukee Admirals. The first 2,500 fans will receive a Bryan Bickell bobblehead, the first of three in the Champions series out this season, courtesy of Dental Dimensions.