HOGS SPLIT OPENING WEEKEND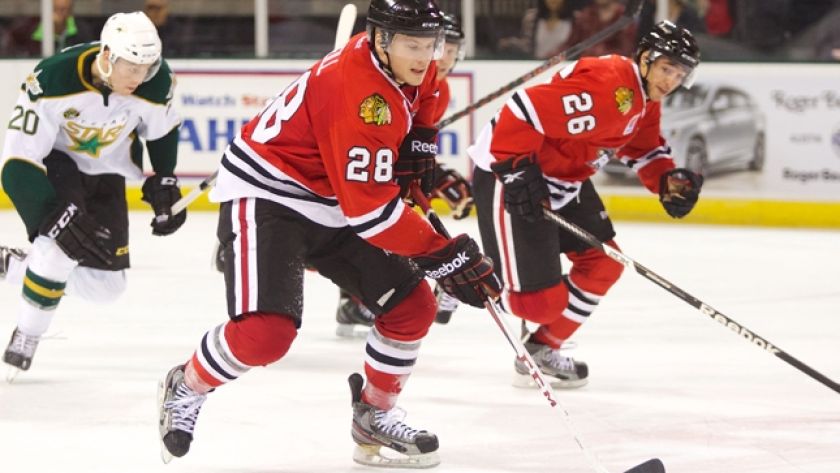 Week 1 Results
Saturday, Oct. 5 Rockford 1 at San Antonio 3
Sunday, Oct. 6 Rockford 4 at Texas 3

Week 2 Schedule
Friday, Oct. 11 at Lake Erie 6:30 p.m.
Saturday, Oct. 12 at Lake Erie 6:00 p.m.
Week 1 Recap:
In their opening weekend of the season the IceHogs split their first two games against San Antonio and Texas. The Hogs lost their season opener at San Antonio on Saturday despite a team record 49 saves by goaltender Kent Simpson. Rockford pulled out the win at Texas on Sunday and will now head to Lake Erie for a two-game set in Week 2.
Bacon Bits:
-Kent Simpson set a single-game IceHogs record on Saturday making 49 saves despite not starting the game and playing in 54:03 of the game
-Overall, Rockford allowed a single-game team record 56 shots on goal against the Rampage
-On the weekend, Simpson turned away 90 shots on goal and has a save percentage of .947
-Three of Simpson's first five career AHL appearances have come against the Texas Stars
-Through his first five AHL appearances, Simpson has faced 193 shots on goal, an average of 38.6 shots per game
-Alex Broadhurst scored a goal on Saturday in his professional debut
-Joe Gleason and Pat Mullane also made their pro debuts on Saturday with Rockford
-Rockford suited up and played nine rookies on Opening Night
-Mark McNeill notched his first professional goal on Sunday in Texas and it proved to be the game winner for Rockford
-McNeill and Phillip Danault, both first round draft picks by the Blackhawks in the 2011 NHL Entry Draft, picked up their first pro point with assists on Klas Dahlbeck's second period goal on Sunday
-It took Dahlbeck 74 games to score his first goal last season and just two contests this season
-The IceHogs visit to San Antonio and Texas opening weekend is the only trip to the Lone Star state in 2013-14
-A season after the home team blew three goal leads in all four games in the Rockford
-Texas head-to-head series, the Stars failed to hold up a two goal lead on home ice on Sunday as Rockford won 4-3.
-Defenseman Adam Clendening notched three points (1g-2a) in the season's first two games, coming off a season where he ranked third in the AHL in scoring among all d-men
-After converting 9 of 16 power play chances (56.3%) against Rockford dating back to last season, the IceHogs killed off four straight man advantages for the Stars on Sunday following a Texas power play goal
Hot Hog: Week 1
Kent Simpson, Goaltender
Kent Simpson came on in relief for the IceHogs season opener against San Antonio just 5:36 into the game when Antti Raanta was injured while making a save. The netminder set a single-game IceHogs record on Saturday making 49 saves despite not starting the game. It wasn't enough as Simpson took the loss against San Antonio. But, Simspon responded the very next day against Texas and made another 41 saves to earn his first win of the season. In total, the Edmonton, Alberta native stopped 90 shots on the weekend and now holds a .947 save percentage on the young season.
Upcoming Games:
Friday, Oct. 11 at Lake Erie Monsters: Game time is 6:30 p.m. The IceHogs travel to Lake Erie for the first of four meetings on the season with the Monsters.

Saturday, Oct. 12 at Lake Erie Monsters: A 6:00 p.m. puck drop, the Hogs and Monsters face-off in the second of a back-to-back at the Quicken Loans Arena.
Bud Light Hog Talk Season Premiere Next Monday At District Bar and Grill:
Bud Light Hog Talk premieres on Monday, Oct. 14 at District Bar and Grill from 6-7 p.m. District is located one block north of the BMO Harris Bank Center on West State Street. Fans can join Mike Peck or Brian Tosti from 6-7 p.m. most Mondays as he chats with IceHogs players, coaches and front office members. Next week's guests include IceHogs forwards Brad Mills and Alex Broadhurst and head coach Ted Dent. Take advantage of food and Bud Light specials at District. The show will be re-aired on Tuesdays from 6-7 p.m. on WIFR's 23.2 "Weather Now."

The IceHogs Broadcasting Network:
Catch every IceHogs game, home and road, in 2013-14 on WIFR's 23.2, "Weather Now." The games can also be viewed on Comcast Cable Channel 436 or Mediacom 101 in the Rockford market and online through AHLlive.com. Fans can listen to the action for free on AHLlive.com. For a complete listing of TV stations carrying IceHogs games, visit IceHogs.com. Every broadcast will start with the IceHogs Warmup 30 minutes prior to puck drop.

Teams Record Points
Chicago 0-0-0-0 0
Rockford 0-0-0-0 0
Rockford vs. Chicago 0-0-0-0
Upcoming Illinois Lottery Cup Games:
Oct. 18: Rockford at Chicago, 7:30 p.m.
Nov. 29: Rockford at Chicago, 7:30 p.m.
Nov. 30: Chicago at Rockford, 7:00 p.m.