HOGS SLIP BY SAN ANTONIO 4-2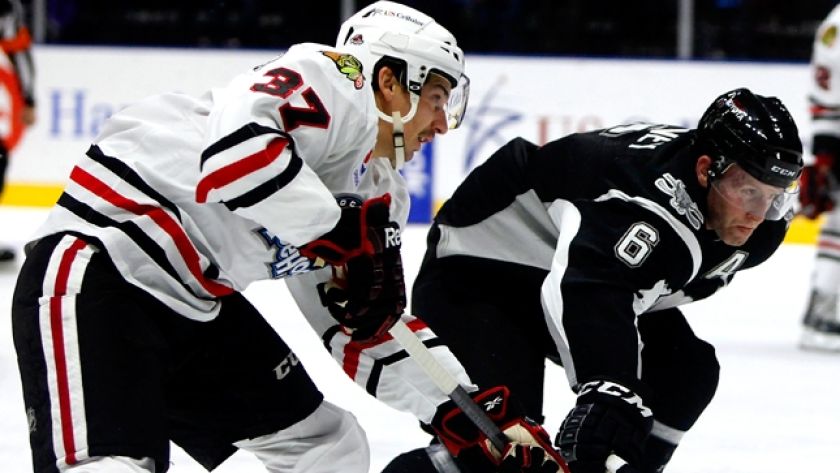 Rockford splits season set with Rampage

Rockford, Ill. – After struggling on the special teams over the past two games, those same units helped the Rockford IceHogs to a 4-2 win on Saturday at the BMO Harris Bank Center.

Tied 2-2 entering the third period, winger Brad Winchester deflected a Bobby Shea point shot past Dov Grumet-Morris at 6:19 of the final frame for the go-ahead, and eventual game winning goal.

San Antonio pulled Grumet-Morris late in the third, but Rockford defenseman Klas Dahlbeck dumped his fifth goal of the season into an empty Rampage net to make it 4-2 at 19:23. The marked sealed the game for the IceHogs and halted a two-game losing streak.

For just the fifth time this season, it was the IceHogs that got the scoring started. With the Rampage on a power play, Rockford was able to take advantage to grab an early 1-0 lead. Shea found Terry Broadhurst racing into the neutral zone and the winger took it himself to tally the shorthanded goal at 7:49 in the first.

Then, Jeremy Morin extended the Hogs lead to 2-0 with his second goal in as many nights. Defenseman Adam Clendening fired a shot in from the blueline and Morin was able to tip it past Grumet-Morris at 15:18.

Despite the IceHogs controlling most of the opening frame, the Rampage got a goal back just before the period expired to trim the lead to 2-1. Drew Shore found Vincent Trocheck for his team-leading seventh goal of the season with 1:37 left in the first period.

Trocheck then picked up right where he left off in the middle frame as the centerman tallied his second goal of the game just 42 seconds in to tie the score at 2-2.

Former IceHogs defenseman Dylan Olsen made his San Antonio debut on Saturday, two days after the Chicago Blackhawks traded him to the Florida Panthers. Olsen finished the contest with three shots on goal with a +1.

Antti Raanta stopped 35 of the 37 shots from the Rampage to earn his seventh win of the season. Rockford finished 1-2 on the power play while holding the Rampage to 0-3.