Hogs Roast Griffins in Shootout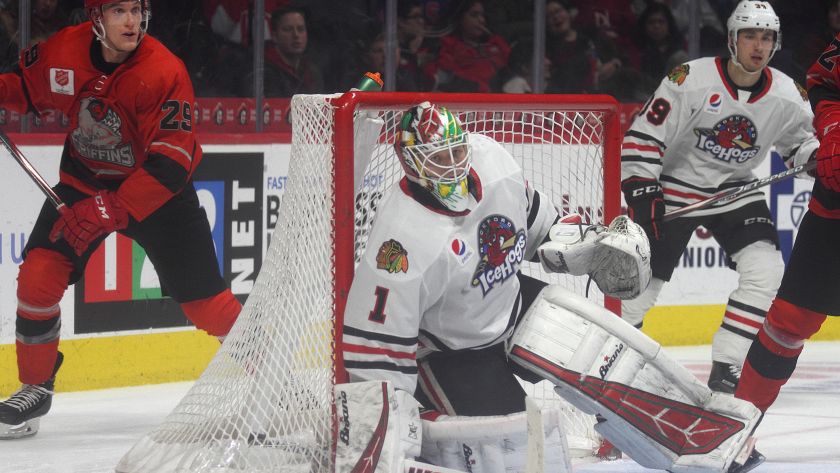 1st
2nd
3rd
Final

—
—
—

—
—
—

Tuesday, July 27
GRAND RAPIDS, MI. – Collin Delia made 28 saves and Tim Soderlund and Joseph Cramarossa each buried in the shootout to help the Rockford IceHogs down the Grand Rapids Griffins, 2-1, at Van Andel Arena on Friday night.
Soderlund approached the net on the right-hand side of the ice, slowed up and sent a wrister past the glove of Griffins goaltender, Calvin Pickard, to give Rockford a 1-0 lead in the second round of the breakaway contest. Delia then stonewalled Taro Hirose to give Cramarossa the opportunity to end the game.
Cramarossa sped down the center of the ice, faked a forehand shot and slid a backhander underneath Pickard, who then fell backward into the net along with the puck. The goal gave the IceHogs the victory and a three-game winning streak against the Griffins.
Grand Rapids originally opened up scoring 4:24 into the second period when Eric Tangradi picked off a pass behind the Rockford net and stepped into the slot to slam the puck past Delia.
Dylan Sikura then netted his team-leading ninth goal of the campaign with just under three minutes remaining in the middle frame when Ian McCoshen pinched at the right point and sent a pass to Tyler Sikura, who one-touched the puck for Dylan to slap past Pickard and even the game at on goal apiece.
The third period and overtime became a defensive duel, with both Delia and Pickard making stellar stops. Delia ended the evening kicking away 28 of 29 and two of two in the shootout while Pickard finished with 32 of 33 and one of three shots in the shootout.
---
Game Notes:
The Hogs have limited opponents to two or fewer goals in five of the last six games since Nov. 24...Rockford has surrendered just 11 total goals over the last six games, good for just 1.83 goals allowed per game in that stretch.
With a second-period tally tonight, Rockford has scored at least one goal in the second period in five straight games and nine of the last 10 games since Nov. 10...Rockford is outscoring opponents 12-7 in the second period over the last 10 games after being outscored 17-8 in the middle stanza through the first 12 contests of the season.
Joe Cramarossa scored the game-winning goal in the shootout against Grand Rapids...Cramarossa is now 5-for-8 in the shootout over the last two seasons between Rockford and Wilkes-Barre/Scranton.
Collin Delia turned aside 28 of 29 shots in the victory...Delia has won each of his last two appearances while stopping 68 of 71 pucks in the two games.