HOGS RECORD FOURTH SELLOUT IN FIVE GAMES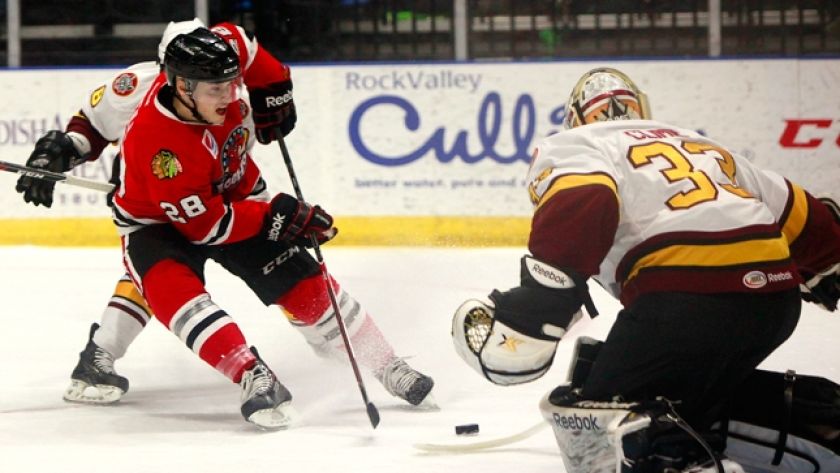 Rockford beats Chicago to end home-and-home set

Week 25 Recap:
The IceHogs entered Week 25 on a three-game skid looking to get back in the win column against their I-90 rival, the Chicago Wolves. The front end of the weekend home-and-home set ended in a Chicago rout. Jake Allen shut out the IceHogs in a 6-0 loss at the Allstate Arena on Friday. Rockford returned home to host Chicago the next night and neither team could take home the win in 65 minutes of play. However, the IceHogs walked away victorious with a 2-1 shootout victory.

Week 25 Results
Friday, Mar. 21: Rockford 0 at Chicago 6
Saturday, Mar. 22: Chicago 1 vs. Rockford 2 SO

Week 26 Schedule
Friday, Mar. 28, vs. Grand Rapids, 7 p.m.
Saturday, Mar. 29, at Grand Rapids, 6 p.m.
Sunday, Mar. 30, vs. Chicago, 4 p.m.

Bacon Bits:
-The IceHogs recorded their fourth sellout in their last five home games on Saturday, drawing 6,513 fans, the team's second highest AHL crowd in team history
-Over their past 13 home games dating back to Jan. 11, the IceHogs are averaging 5,324 fans per contest
-Overall, Rockford has sold out eight of their 32 home games this season
-Rockford snapped a four-game shootout losing streak on Saturday when they topped the Wolves 2-1 in the skills competition
-The IceHogs are now 4-4 in the shootout this season after winning their first three shootouts
-Goalie Jason LaBarbera earned his first shootout win of the season on Saturday
-Six of the last seven head-to-head meetings between the IceHogs and Wolves have finished in a one-goal game, with three of them finishing in the shootout
-Just two of the nine games have been decided by more than two goals, both six goal victories by the Wolves
-Rockford was shutout for the first time this season on Friday, 6-0 in Rosemont against the Wolves, the first shutout against since 4/10/13 at Peoria (0-4 L)
-Defenseman Adam Clendening marked his 42nd assist of the season on Saturday, becoming Rockford's all-time single season assist leader among d-men
-From 3/9/14 to 3/27/14, Rockford plays three games in 19 days
-From 3/28/14 through 4/19/14, the IceHogs will finish the season by playing 11 games in 22 days
-Rockford has won six games by the score of 2-1 this season

Hot Hog: Week 25
Goaltender Jason LaBarbera
Goalie Jason LaBarbera picked up his first shootout win of the season on Saturday as he backstopped Rockford to a 2-1 victory over the Chicago Wolves. In regulation, LaBarbera turned aside 35 of 36 shots and then denied four of the five Wolves shootout shooters to help the Hogs earn the win. Overall this season, LaBarbera is 13-9-3 with a 2.70 goals against average and a .916 save percentage.

Upcoming Games: Week 26
Friday, Mar. 28 vs. Grand Rapids Griffins at 7 p.m.: The IceHogs host the Griffins at the BMO Harris Bank Center for the first time since Dec. 27 to kick off a three-game weekend. Friday's game is sock monkey giveaway night as the first 2,500 fans will receive an IceHogs sock monkey courtesy of BMO Harris Bank.

Saturday, Mar. 29 at Grand Rapids Griffins at 6 p.m.: In game two of the weekend, and the back end of a home-and-home against Grand Rapids, Rockford heads to Van Andel Arena to take on the Griffins. This will be the final of 10 contests between these two teams in the 2013-14 season.

Sunday, Mar. 30 vs. Chicago Wolves at 4 p.m.: To finish the three-game weekend, the IceHogs host the Wolves on Sunday afternoon. The game is the IceHogs 15th annual Jersey Auction night. Specialty March of Dimes jerseys will be auctioned off at the game to help raise money for local charities.

Illinois Lottery Cup Series Standings
Teams Record Points
Chicago 5-3-0-1 11
Rockford 4-3-0-2 10

Upcoming Illinois Lottery Cup Games:
Mar. 30: Chicago at Rockford, 7 p.m.
Apr. 13: Rockford at Chicago, 3 p.m.
Apr. 18: Chicago vs. Rockford, 7 p.m.