HOGS REBOUND, WIN TWO AGAINST ADS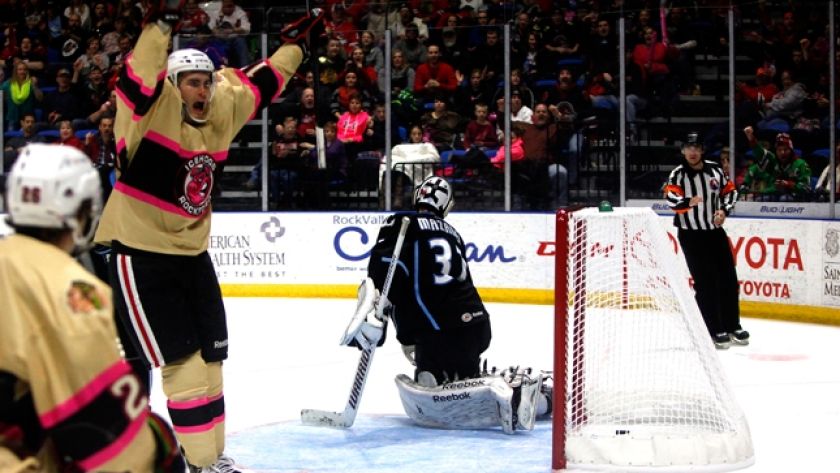 Rockford earns four points in weekend three-game series with Milwaukee

Week 17 Recap:
Close games were a trend that carried over from the previous week and continued in Week 17 for the IceHogs. After dropping one-goal games to Toronto on Monday and Milwaukee on Friday, the Hogs finally came through by winning two more one-goal contests against Milwaukee on Saturday and Sunday. Rockford travels to New York in the week ahead to take on the Rochester Americans and Utica Comets.
Week 17 Results
Monday, Jan. 20: Toronto 3 vs. Rockford 2
Friday, Jan. 24: Rockford 2 at Milwaukee 3
Saturday, Jan. 25: Milwaukee 1 vs. Rockford 2
Sunday, Jan. 26: Rockford 4 at Milwaukee 3 OT

Week 18 Schedule
Friday, Jan. 31, at Rochester, 6:05 p.m.
Saturday, Feb. 1, at Utica, 6:00 p.m.

Bacon Bits:
-With their 4-3 overtime win on Sunday in Milwaukee, Rockford snapped a seven game road winless streak (0-5-1-1)
-The IceHogs last won on the road on 12/7/13, a 5-3 victory at Charlotte
-The win also snapped an 11-game road losing streak (0-9-1-1) against Midwest Division opponents
-The IceHogs beat the Chicago Wolves in Rosemont on 10/18/13, their first divisional road game of the season, before dropping the next 11 road tilts
-The IceHogs overcame a two-goal third period deficit on Sunday for their fourth third-period come-from-behind victory of the season, but first since 10/27/13 in a 4-2 win over Texas
-Rockford broke a streak on Saturday of nine-straight games with a first period goal, but tallied in the first frame on Sunday
-Center Brandon Pirri notched his 200th career point on Saturday
-Jeremy Morin bagged his first multi-goal game of the season on Sunday when he scored twice in a span of 23 seconds in Milwaukee
-It was Morin's ninth career multi-goal game
-The IceHogs have played in six straight games that have been decided by just one goal
-The Hogs show a record of 2-3-1-0 during that stretch and are 12-4-4-2 overall on the season in on goal tilts
-Rockford will play Rochester on Friday for the first time since 2/14/09 and the first time in Rochester since 2/4/09
-Defenseman Adam Clendening was a scratch on Saturday night, missing his first game of the season, leaving just rookies Drew LeBlanc and Mark McNeill as the only Hogs to have played in all 46 games this season
-Rockford drew a crowd of 6,504 on Saturday night, the second largest crowd ever to watch a Hogs' AHL game at the BMO Harris Bank Center and fourth sellout of 2013-14.
-After playing six games in 13 days between 1/15/14-1/26/14, Rockford will play three times over the next 12 days from 1/27/14-2/7/14

Hot Hog: Week 17
Left Wing, Jeremy Morin

During a busy four game week, forward Jeremy Morin picked up points in three of those contests for the IceHogs. The Auburn, New York native posted assists against Toronto and Milwaukee to open the week. Then, with the IceHogs trailing Milwaukee by two goals entering the third period on Sunday, Morin single handedly brought the Hogs back in the game. Morin fired in his 10th goal of the season just 2:20 into the final frame before adding his 11th just 23 seconds later to tie the game and eventually force overtime where the IceHogs defeated Milwaukee. It was Morin's sixth multi-point outing and first multi-goal game of the season. The fourth year pro is tied for third on the IceHogs scoring chart with 24 points (11g-13a) in 30 games.

Upcoming Games: Week 18
Friday, Jan. 31 at Rochester Americans: Game time is set for 6:05 p.m. The IceHogs travel to Rochester for the first and only time of the season as Rockford takes on Rochester in the second game of a three-game road trip. The Hogs are 3-1-0-0 all-time against the Americans.

Saturday, Feb. 1 at Utica Comets: Puck drop is set for 6 p.m. In the final game of their road trip, the IceHogs face off against the Comets for their first ever matchup.

The IceHogs Broadcasting Network:
Catch every IceHogs game, home and road, in 2013-14 on WIFR's 23.2, "Antenna TV." The games can also be viewed on Comcast Cable Channel 436 or Mediacom 101 in the Rockford market and online through AHLlive.com. Fans can listen to the action for free on AHLlive.com. For a complete listing of TV stations carrying IceHogs games, visit IceHogs.com. Every broadcast will start with the IceHogs Warmup 30 minutes prior to puck drop.

Tickets On Sale for 2013-2014!
IceHogs individual game tickets are now on sale! Call (815) 968-5222 to reserve your seats for any IceHogs regular season game during the 2013-14 season. Tickets can also be purchased online at IceHogs.com, in person at the BMO Harris Bank Center Box Office in downtown Rockford, or any Ticketmaster outlet, including Wal-Mart. Tickets start at just $8.