HOGS PICK UP FOUR OF SIX POINTS ON WEEKEND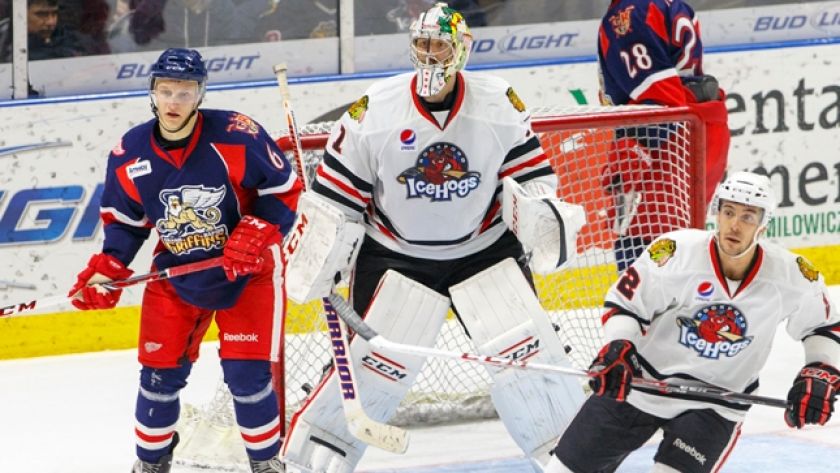 Week 14 Results
Monday, Dec. 30: Charlotte 3 vs Rockford 2
Friday, Jan. 3: Iowa 3 vs. Rockford 2 SO
Saturday, Jan. 4: Grand Rapids 2 vs. Rockford 4
Sunday, Jan. 5: Rockford 3 at Chicago 4 SO
Week 14 Audio Recap

Week 15 Schedule
Wednesday, Jan. 8 at Grand Rapids, 6 p.m.
Friday, Jan. 10 vs. Lake Erie, 7 p.m.
Saturday, Jan. 11 vs. Lake Erie, 7 p.m.

Week 14 Recap:
After dropping their seventh straight game on Monday to Charlotte, the IceHogs began the New Year by haulting the losing streak by earning a standings point in a 3-2 shootout loss to Iowa on Friday. The IceHogs knocked off the defending Calder Cup Champion Grand Rapids Griffins on Saturday 4-2 at the BMO Harris Bank Center. Then, the Hogs found themselves in their second shootout in three nights to earn another standings point, but were defeated by the Chicago Wolves in the skills session on Sunday.

Bacon Bits:
IceHogs Notes for Week 14
-The IceHogs took four of six points over their second three-game in three day weekend
-After going 109 straight games without a shootout loss, Rockford has dropped two shootouts over the last three games
-Center Joakim Nordstrom is riding a team season-best eight game point streak where he has totaled 4g-7a-11pts
-Norstrom turned in a +3 plus/minus rating on Saturday, the second time he's been a +3 or higher on the season
-With Jason LaBarbera making his IceHogs debut on Saturday, Rockford has now used five different goalies this season through 37 games
-Rockford used four goalies last season and five different backstops over their past two campaigns
-The IceHogs will hit the midway point of the 2013-14 regular season after Wednesday's game in Grand Rapids
-Rockford broke a seven game winless streak on Saturday and during all seven contests, the IceHogs scored just one or two goals
-The Hogs have now picked up at least one standings point in each of their previous three games (1-0-0-2)
-Rookie winger Pat Mullane recorded his first career AHL goal on Sunday against the Wolves
-Defenseman Theo Peckham did not register a penalty minute on Monday for the first time in 11 contests, dating back to Oct. 23
-Peckham racked up 52 penalty minutes in 11 straight games from 10/26/13-12/27/13, setting the club's AHL record which was previously held by Jeremy Morin (7 games (10/21/11-11/9/11)
-The IceHogs have allowed a power play goal in eight straight contests dating back to Dec. 20, going 11-39, a 71.8% kill rate

Hot Hog: Week 14
Center Joakim Nordstrom

In the midst of a point streak, center Joakim Nordstrom continued to stay red-hot during Week 14, registering a point in all four of Rockford's contests to keep the streak going. Nordstrom dished out an assist to tie the game in the third period on Monday against Charlotte before the Hogs eventually lost 3-2. In the first game of the New Year, the pivot potted his ninth goal of the season in regulation and converted on his shootout attempt against Iowa to help the IceHogs end their seven game losing streak and pick up a standings point in the 3-2 loss. Then, for the second time this season Nordstrom tallied two goals, and added an assist for his first three point night of the season, to earn the game's #1 Star against Grand Rapids. The Stockholm, Sweden native closed out the week with two helpers on Sunday in Chicago for his fourth multi-point night of the campaign. The centerman is now riding an IceHogs season-best eight game point streak with 11 points (4g-7a) during the hot stretch.

Upcoming Games:
Wednesday, Jan. 8 at Grand Rapids Griffins: Game time is set for 6 p.m. The Hogs travel to Michigan to take on their Midwest Divison rivals for the second time in less than week. The IceHogs won the last meeting 4-2 on Saturday, Jan. 4 at the BMO Harris Bank Center.

Friday, Jan. 10 vs. Lake Erie Monsters: Puck drop is 7 p.m. when the IceHogs battle the Monsters for the third time this season. The contest is the first in a back-to-back set against Lake Erie.

Saturday, Jan. 11 vs. Lake Erie Monsters: The IceHogs and Monsters take the ice at 7 p.m. It's the second meeting in a back-to-back weekend matchup between the two teams. The first 2,500 fans through the gates will recieve a fleece blanket courtesy of OSF.

The IceHogs Broadcasting Network:
Catch every IceHogs game, home and road, in 2013-14 on WIFR's 23.2, "Antenna TV." The games can also be viewed on Comcast Cable Channel 436 or Mediacom 101 in the Rockford market and online through AHLlive.com. Fans can listen to the action for free on AHLlive.com. For a complete listing of TV stations carrying IceHogs games, visit IceHogs.com. Every broadcast will start with the IceHogs Warmup 30 minutes prior to puck drop.

Tickets On Sale for 2013-2014!
IceHogs individual game tickets are now on sale! Call (815) 968-5222 to reserve your seats for any IceHogs regular season game during the 2013-14 season. Tickets can also be purchased online at IceHogs.com, in person at the BMO Harris Bank Center Box Office in downtown Rockford, or any Ticketmaster outlet, including Wal-Mart. Tickets start at just $8.