HOGS PARTNER WITH BMO HARRIS BANK FOR ANNUAL SOCK DRIVE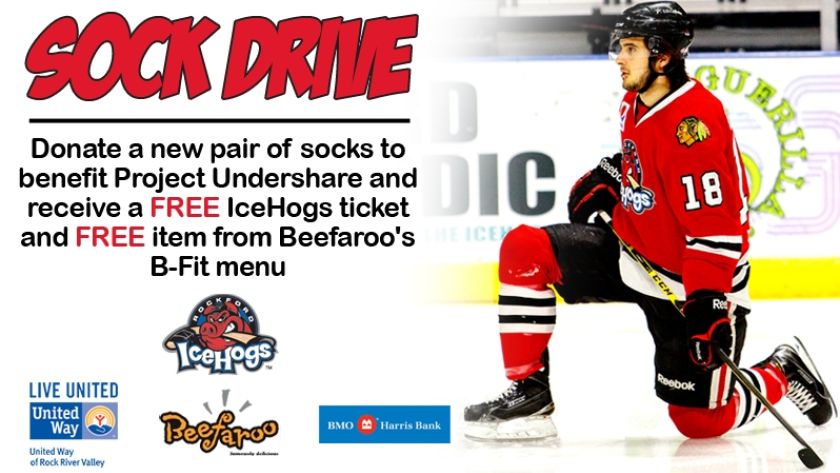 Bank to match sock donations for Rockford's homeless community

Rockford, Ill. – BMO Harris Bank today announced, in partnership with the Rockford IceHogs and the United Way of Rock River Valley, that on April 4, 2015, they will host "Sock Drive Night" at the BMO Harris Bank Center.

New pairs of socks will be collected and donated to homeless children in Rockford through Project Undershare. Starting Friday, March 27, 2015, donations will be accepted at the BMO Harris Bank Center Box Office, all BMO Harris Bank branches in the city of Rockford and the IceHogs game on April 4.

To go along with the sock drive, fans can post a picture of themselves wearing their favorite crazy socks via social media using #BMOSockSelfie. Images will be shared during the game on Sock Drive Night on April 4.

"We're excited to partner with the IceHogs and Beefaroo again this year to help our youth in need by providing essential items that will improve their quality of life," said Andrea Ward, Market President, BMO Harris Bank. "We hope everyone will come out to showcase their favorite crazy socks and support this great cause by donating a pair of socks to Project Undershare."

BMO has committed to matching the all sock donations for the Rockford community –Last year, more than 2,800 socks were donated to Project Undershare and this year the goal is set at 4,000.

Sock donations will be accepted March 27 through Saturday, April 4, when the IceHogs take on the Rochester Americans at 7:00 p.m. (purchase tickets at www.icehogs.com or call 815-968-5222).

Individuals who donate a pair of new children's socks at the BMO Harris Bank Center will receive a free IceHogs ticket to either the game on Tuesday, Apr. 7 or Wednesday, Apr. 15. Individuals who make donations will also receive a voucher for one free item from Beefaroo's B-Fit menu. BMO Harris Bank's mascot, Hubert the Lion, will be present at the April 4 game to greet and thank the community as the donations are accepted.

About BMO Harris Bank
BMO Harris Bank provides a broad range of personal banking products and solutions through more than 600 branches and approximately 1,300 ATMs in Illinois, Wisconsin, Indiana, Kansas, Missouri, Minnesota, Arizona and Florida. BMO Harris Bank's commercial banking team provides a combination of sector expertise, local knowledge and mid-market focus throughout the U.S. For more information about BMO Harris Bank, go to the company fact sheet. Banking products and services are subject to bank or credit approval. BMO Harris Bank N.A. Member FDIC. BMO Harris Bank is part of BMO Financial Group, a North American financial organization with approximately 1,600 branches, and CDN $672 billion in assets (as of January 31, 2015).