HOGS OPEN ROAD TRIP WITH WIN AT MANITOBA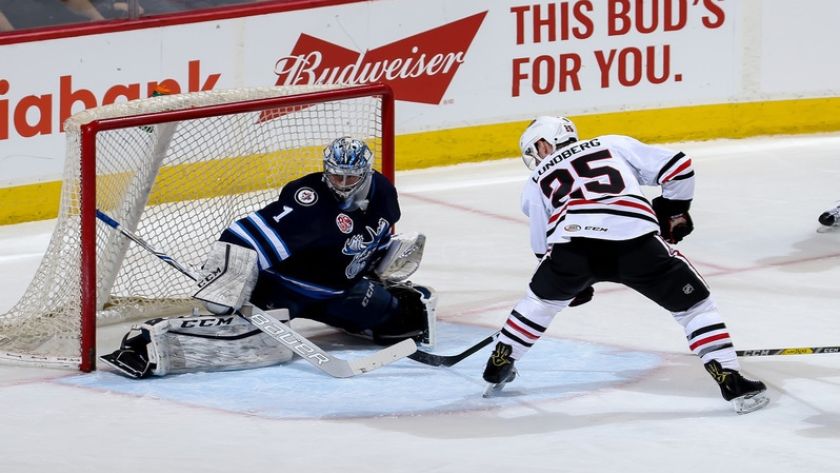 Winnipeg, Manitoba – An exciting back-and-forth contest saw the Rockford IceHogs collect a 4-3 victory over the Manitoba Moose at the MTS Centre on Tuesday night. Kyle Baun and Martin Lundberg combined for two quick goals in the third period to secure the win.
With the contest knotted up at 2-2 entering the final frame, Baun collected a loose puck in the left circle and squeezed a shot through Eric Comrie to put Rockford up by a goal. Lundberg then added what proved to the the game-winning tally 1:34 later, racing through the neutral zone and snapping a shot into the top corner of the net for his eighth strike of the campaign.
A strong first period helped the IceHogs jump out to a 2-0 lead. Brandon Mashinter tallied both goals, the first on a power play midway though the opening frame. Mashinter slammed home a rebound after Erik Gustafsson snapped a shot to the cage that was turned wide by Eric Comrie. The big IceHogs winger struck again, this time on a Sam Carrick rebound, with 7:26 to play in the frame.
Manitoba came out firing in the second period, cutting the score to 2-1 just 1:02 into the frame. Travis Zajac picked up his first AHL goal of the season to get the Moose on the board. Just 33 seconds later, Scott Glennie tied up the contest as he rifled home a pass from Quinton Howden sending the game tied at 2-2 into the third.
Next Home Game: Tuesday, Feb. 28 vs. Manitoba Moose at 7 p.m. The IceHogs host the Moose in the fifth matchup between the two teams in the 2016-17 season. Tuesday is a Winning Weekday and a WXRX Dollar Day.