HOGS LOOK TO BUILD MOMENTUM AGAINST MILWAUKEE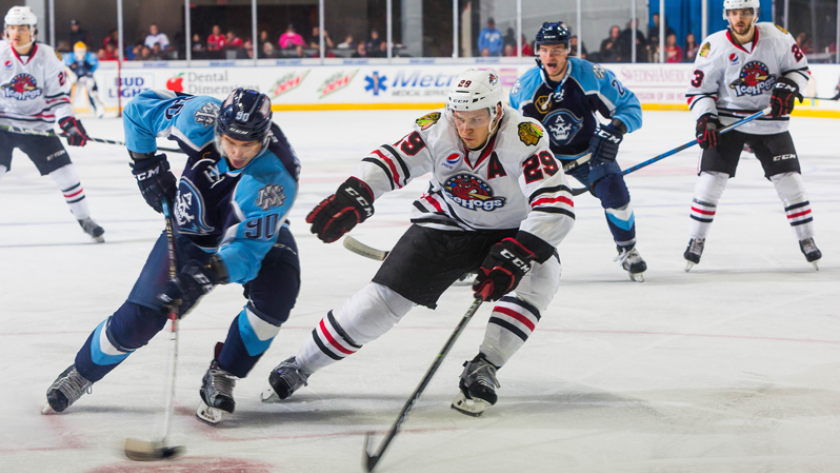 ROCKFORD, Ill. -- The Rockford IceHogs aim for their second straight win as they take on the Milwaukee Admirals at the BMO Harris Bank Center Sunday afternoon. Rockford took a 5-2 victory in its last meeting with Milwaukee on Nov. 11, and is 2-3-0-0 against the Admirals in 2017-18.
Puck drop is at 4 p.m. and fans can tune in to all the action on Cozi TV 23.3 or Dish Network Channel 252, beginning with IceHogs Warmup at 3:30 p.m. IceHogs fans can also listen to the game at sportsfanradio1330.com or watch live at AHLlive.com (subscription required).
Matchup: The IceHogs (19-15-1-1, 4th Central) enter tonight's contest following a 4-3 shootout win over Cleveland last night, which snapped a four-game losing skid.
Forward Matthew Highmore notched a goal and an assist in Saturday's win to take over the team lead in points with 25. Fellow forward Tomas Jurco also nabbed a goal against Cleveland, and follows with 24 points of his own. Defenseman Erik Gustafsson has an assist in five of his last six outings, and has a team-high six points in five games against Milwaukee.
Milwaukee (17-13-4-0, 3rd Central) earned a shootout victory of its own in its last contest, winning 4-3 over Iowa on Friday night.
Forward Bobby Butler leads the Admirals with 14g-12a-26pts, and has posted four goals and an assist across his last six games. Fellow forward Emil Pettersson follows with 8g-17a-25pts, and is tied for the team lead in points against the IceHogs with two goals and four assists in five games this season. Netminder Anders Lindback has three wins and a .922 save percentage in four starts against Rockford.
Next Home Game: The IceHogs take on the Bakersfield Condors on Tuesday, Jan. 23 at 7 p.m. at the BMO Harris Bank Center. The contest marks another Fas Fuel Winning Weekday in 2017-18. If the Hogs win, tickets from Tuesday's game can be redeemed for a ticket of equal or lesser value to the following Fas Fuel Winning Weekdays game on Wednesday, Feb. 7. Fans can also enjoy $2 tacos, select beer, and companion tickets as part of Taco Tuesday. Tickets can be purchased at IceHogs.com, by calling (815) 968-5222 or in-person at the BMO Harris Bank Center Box Office.