HOGS LIGHT UP SCOREBOARD IN WEEK 19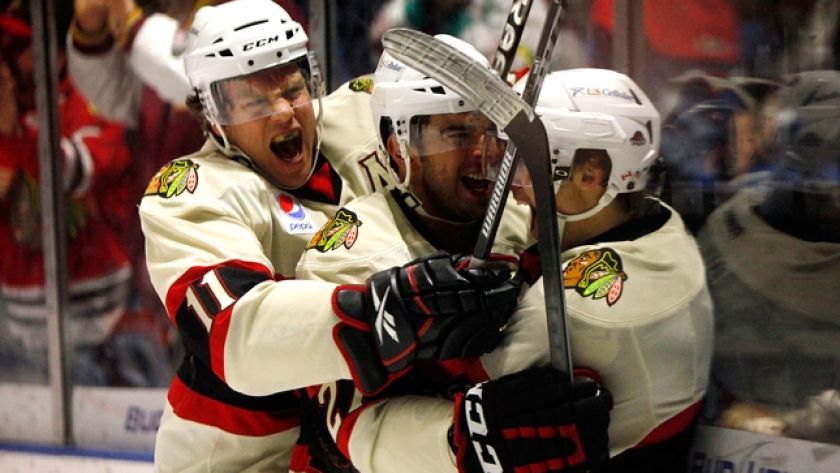 With three W's in Week 19, Rockford stretches win streak to four

Week 19 Recap:
The IceHogs started Week 19 by lighting up the scoreboard to the tune of six goals, tying a then-season high in goals, and taking home a 6-4 victory over the Hamilton Bulldogs on Tuesday night. The goal horn at the BMO Harris Bank Center worked over time this week as Rockford continued the goal-scoring on Saturday against the Iowa Wild. The IceHogs set a new season high in goals with eight in the 8-3 win. Completing the week with a win, Rockford stretched their winning streak to four against the Utica Comets in a 5-4 OT decision.
Week 19 in Audio

Week 19 Results
Tuesday, Feb. 4: Hamilton 4 vs. Rockford 6
Saturday, Feb. 8: Iowa 3 vs. Rockford 8
Sunday, Feb. 9: Utica 4 vs. Rockford 5 OT

Week 20 Schedule
Friday, Feb. 14, vs. Chicago, 7 p.m.
Saturday, Feb. 15, at Iowa, 7:05 p.m.
Sunday, Feb. 16, at Iowa, 4:05 p.m.

Bacon Bits:
-Forward Jeremy Morin recorded his first career professional hat trick on Saturday, registering three goals, an assist and a plus minus rating of +2
-With his four goals over the weekend, Morin is now Rockford's all-time goal scoring leader with 71 career markers, passing Preston Mizzi (69)
-Morin has a four-game point streak, registering 4g-3a-7pts with a plus/minus rating of +5
-Making his IceHogs debut on Saturday, Pierre-Marc Bouchard helped set up each of Morin's tallies, finishing the game with three helpers
-The IceHogs scored 19 goals in three games during week 19, averaging 6.33 goals per contest
-That's the most goals in a three-game stretch for Rockford since 4/12-4/19/13 and the most goals in a three-game home stretch in the IceHogs AHL era
-The all-time mark for most goals in a three-game home span is 21 when the UHL IceHogs did it from 1/13/07-1/24/07, scoring seven times in each of the three games
-Saturday's eight goal outburst matched the most goals scored on home ice in team history (during the AHL era)
-The only other time the IceHogs have put up eight goals in Rockford came on 11/11/07 against San Antonio in a 8-3 victory
-Forward Alex Broadhurst tied a single-game high with four points in Sunday's win over Utica, registering 2g-2a including the game-winning tally in overtime
-The Broadhurst brothers, Alex and Terry, figured in on the same goal three times over the weekend, including the game winner on Sunday
-Two other IceHogs skaters have accumulated four points in a game this season, Jeremy Morin with 3g-1a on 2/8/14 and Klas Dahlbeck (4a) against Lake Erie on 1/11/14
-Both Terry Broadhurst (2a) and Adam Clendening (2a) recorded two points against Utica on Sunday
-The duo paces the IceHogs with nine multi-point efforts on the campaign
-Head Coach Ted Dent picked up his 101st career victory on Sunday and now stands in third place on Rockford's all-time wins list behind Steve Martinson (142) and Bill Peters (122)
-The IceHogs coughed up a 3-1 lead on Sunday only to complete their fifth comeback of the season when trailing after two periods (5-17-1-1)

Hot Hog: Week 19
Left Wing, Jeremy Morin
The IceHogs offense heated up during Week 19 and forward Jeremy Morin played a large part in the outburst. The Auburn, N.Y. native had a point in all three of Rockford's games during the week and shows points in seven of his last nine contests (6g-5a). The fourth year pro began the week by dishing out an assist in Rockford's 6-4 victory over Hamilton on Tuesday. Then, Morin lead the charge with his first career professional hat trick, and added an assist, in Rockford's dominating 8-3 win against Iowa. The winger tallied his team-leading 15th goal of the season on Sunday and is now Rockford's all-time goal scoring leader in franchise history with 71 career goals.

Upcoming Games: Week 20
Friday, Feb. 14 vs. Chicago Wolves: Game time is set for 7 p.m. The IceHogs take on their I-90 rival, the Chicago Wolves, in a Valentine's Day clash. The contest will be another Illinois Lottery Cup matchup.

Saturday, Feb. 15 at Iowa Wild: Opening face-off will be at 7:05 p.m. Rockford travels to Iowa for just the third time this season for a Midwest Division tilt. This will be game one-of-two at Iowa and the middle contest of a three-game weekend.

Sunday, Feb. 16 at Iowa Wild: Puck drop will be at 4:05 p.m. Ending a busy three-game weekend, the IceHogs finish week 20 and their Midwest Division weekend against the Wild.

Illinois Lottery Cup Series Standings
Teams Record Points
Chicago 3-2-0-0 6
Rockford 2-2-0-1 5

Upcoming Illinois Lottery Cup Games:
Feb. 14: Chicago at Rockford, 7 p.m.
Feb. 21: Chicago at Rockford, 7 p.m.
Mar. 21: Rockford at Chicago, 7:30 p.m.
Mar. 22: Chicago at Rockford, 7 p.m