HOGS LEAD THIRD PERIOD PUSH FOR 4-3 WIN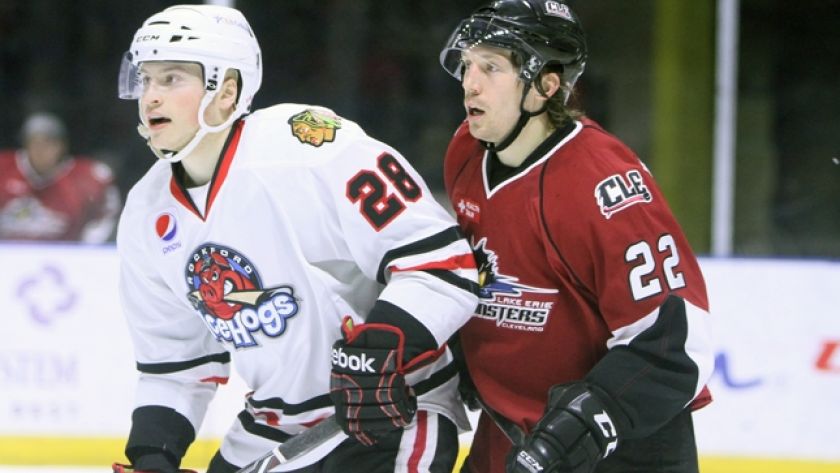 Rockford, Ill. – Breaking the tie for the fourth time was the charm for the Rockford IceHogs as they downed the Lake Erie Monsters 4-3 at the BMO Harris Bank Center on Friday, taking game one of a weekend back-to-back.
For the final time on the night, the IceHogs took the lead, this time on a Garret Ross tip in for the game-winner with just 2:23 remaining in regulation to set the final score at 4-3. Adam Clendening fired the shot from the blue line that Ross steered into the net.
It took until 19:43 of the first period, but the IceHogs notched the first marker of the game when the Broadhurst brothers connected. The younger, Alex Broadhurst, won the faceoff and the puck found his elder brother, Terry, who fired it past Sami Aittokallio to make the game 1-0.
Lake Erie's Brett Clark tied the contest up with just two seconds left in the period on a laser that found its way past Kent Simpson for the 1-1 equalizer to end the first period.
With 12:17 remaining in the second stanza, Terry Broadhurst found Jeremy Morin above the left faceoff circle for a one-timer that Morin fired over Aittokallio's shoulder to take back a 2-1 lead for Rockford.
Matt Hunwick of the Monsters tied the game once again at 13:42 of the sandwich frame on a feed from Mark Olver. The defenseman went top shelf on Simpson to knot the score, this time at 2-2.
The first and only power play tally came in the third period as Clendening put a shot on net that Drew LeBlanc got a piece of to guide past Aittokallio just 2:04 into the final period to take the IceHogs third lead of the night at 3-2.
Tying it up for the third time, Guillaume Desbiens was credited with the goal when a shot by Markus Lauridsen was helped through traffic by the winger with 6:37 remaining to set the score at 3-3.
Joakim Nordstrom saw his nine-game point streak come to an end on the night, tallying 12 points (4g-8a) in that span. Simpson earned his seventh win on the season by stopping 21 shots.