HOGS HOME POINT STREAK STOPPED AT EIGHT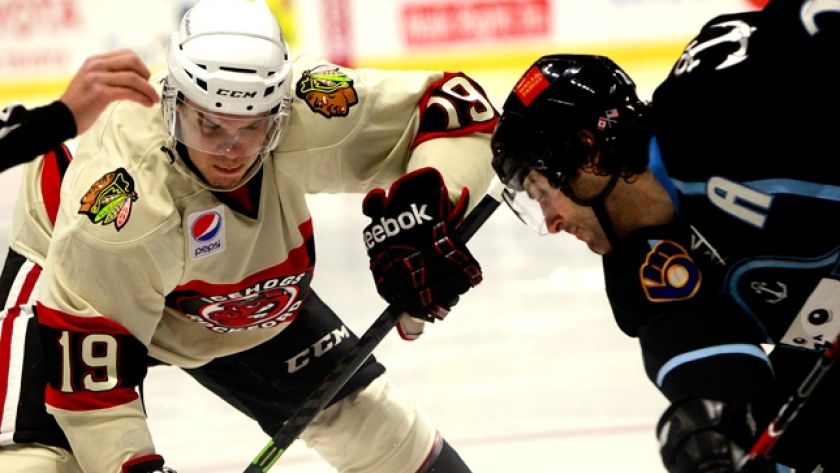 Home Point Streak Ends as Hogs Fall to Admirals at BMO
Rockford, Ill. – One night after being taken down by the Milwaukee Admirals 8-3, the Rockford IceHogs battled their Midwest Division foe with an AHL-record eight-game home point streak on the line. But surrendering six goals on the night resulted in Rockford losing for the second straight night to Milwaukee, 6-2, ending their home point streak.
The Admirals struck first at 9:39 of the first period when Bryan Rodney fired a slapshot on a pass from Vinny Saponari to give Milwaukee the 1-0 lead.
Rockford tied it up at 11:37 when Pierre-Marc Bouchard swiped the puck from the Admirals, winning a one-on-one battle with Milwaukee netminder Marek Mazanec to tie the game at 1-1.
Just 1:27 into the second period, the Admirals took the lead once more on a turnover in front of Jason LaBarbera. Filip Forsberg was able to fire the puck past the IceHogs goaltender for the 2-1 marker.
After killing a 5-on-3 and a 5-on-4 power play for the Admirals, the IceHogs drove the puck down the ice where Terry Broadhurst fired the puck past Mazanec from the left faceoff circle. After a review, the goal was upheld and the score was knotted at 2-2 with 8:44 remaining in the sandwich frame.
Milwaukee kept the pressure on the Hogs as Miikka Salomaki took a pass from Mathieu Tousignant and flipped into the open side of the net with 1:30 remaining give the Admirals a 3-2 lead.
After Brad Mills was whistled for a boarding major, the IceHogs had 5:00 of power play to deal with. Milwaukee tallied once more, this time on the powerplay, as Calle Jarnkrok found the back of the net with 36 seconds left to extend the Admirals lead to 4-2.
The third period didn't go the IceHogs way either, as Milwaukee made it a 5-2 contest with 9:03 remaining. Rookie centerman, Colton Sissons, netted the puck after Vinny Saponari fired one at LaBarbera that rebounded to Sissons.
Milwaukee sealed the contest with an empty-net goal with 1:13 left in the game as Joonas Rask fired it into the net for the 6-2 victory.
Next Home Game: Saturday, March 22 against the Chicago Wolves. Puck drop is 7 p.m. It is country night with the IceHogs and the first 1,500 fans through the gate will receive a cowboy hat courtesy of Frito Lay. Gunner and the Grizzly Boys will be performing live at the game.